Do you remember the Andrews Sisters' song... "Drinkin' rum and coca cola... workin' for the yankee dolluh."? If you do, you probably have the uneasy feeling that those blue-collar 1950's lyrics don't fly in these affluent nineties. These days, when it comes to rum, you're talking sophistication. Your rum drink is more likely to be a two-toned mix of light and dark spirits embellished with all sorts of complimentary flavors. Coke? Fuhgeddabout it!
The best rums today, we are told by the experts, now stand on the Cognac plateau and many should be considered as sipping drinks. If you must have a mixed drink, then it is in your own best interest to marry your precious spirit to equally upscale partners.
Sure, simple rums, primarily white, still far outsell more prestigious siblings, and they are just fine in mixed drinks on hot summer days. But, says Mark Broadhurst, Operations Analyst for the Kahunavile chain of tropically oriented restaurants, "You enrich the experience when you use something that stands out in flavor and quality from the normal bar pour." The opportunities for enriched experience, or simply put, more interesting drinking, are boundless.
There are about 1,500 rums produced in the world's warmer climates, some in huge facilities such as the Bacardi distilleries in Puerto Rico, Mexico, Spain and the Bahamas, who send a river of more than 10 million cases a year to the United States alone. Others could almost qualify as small craft products. To say that Bacardi dominates the U.S. market is an understatement. Its Puerto Rican brand outsells anything in the spirits market and the color is predominantly white. Only one of every four bottles sold is dark rum.
Rum today has many faces and new variations seem to appear almost weekly. White rum, with very little edge to it, is the base for most mixed drinks. Flavored rums, inspired by the success of Captain Morgan, are increasingly popular and come in all varieties of sugar and spice and fruit flavors such as coconut, banana and mango.
But it's the small batch concept that is making big news today. It's the single-malt scotch and special barrel bourbon idea all over again. This time limited bottlings of aged rums are flowing in from places you might never have figured into the rum equation. These are the sipping rums, closer to brandy than everyday spirits. Like a fine Cognac, they improve with barrel ageing and can be at their best after half a century or more. They're aimed at a connoisseur market that's willing to spend anywhere from $30 to $250 to put an impressive label in front of guests.
Seagram, which brought us Captain Morgan, has moved decidedly upmarket with its Rare Rums of the Caribbean Collection featuring dark, aged rums from small distilleries: R.L. Seale's from Barbados; Gran Blason from Costa Rica; Myers's Legend from Jamaica and Diplomatico from Venezuela. There's nothing bland about the flavors in these specialty rums. Seale's bursts out of the glass, rich in honey and almond tones; and Myers's Legend shows brute strength in the style of the rough navy rums for which Jamaica is known. Others of this rank include Bacardi Añejo and its latest addition, Bacardi 8-Millenium, finished in small, aged sherry barrels and packaged in a Baccarat decanter. Only 3,000 were made and--hold on - the price is $700 each. "We're aiming at consumers and collectors," says Alfredo Piedra, President of Bacardi Global Brands. And certainly not at the everyday drinker.
On a somewhat more approachable scale, look for Appleton Estate Extra 12 Year Old, from Jamaica, Barbancourt 15 Year Old Reserve from Haiti; Demerara Eldorado 15 Year Old, from Guyana; and Flor de Cana Centenario 12 Year Old.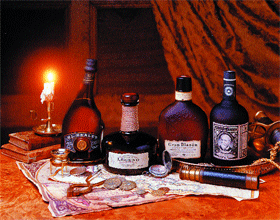 It's not known whether sugarcane first sprung up in Northeast India or some South Pacific Island. Arab voyagers introduced it to Europe early in the seventh century, but sugar remained a costly rarity until Christopher Columbus carried cane cuttings to the West Indies where they prospered, and sugar became the major crop of the Islands. Those Spanish settlers observed that the residual molasses of their primitive processing facilities fermented easily and they took the next logical step - distillation. Shipping it as rum was more profitable than sending raw sugar across the Atlantic. The new drink was readily accepted by Europeans.
Rum and the British navy are part of that colorful history. When, in 1745, naval officers sought to curb outbreaks of scurvy, they cut the daily ration of beer and replaced it with the strange, new West Indian spirit. It worked against the ailment and the officer in charge, an Admiral Vernon, was cheered by his men, who referred to him affectionately as Old Rummy and named the new drink after him. The word rum, of course, was popularly used by the English of that period to describe favored people, objects or events, hence naming the new drink rum showed their esteem for it.
Rum is made from the molasses that is a byproduct of sugar production. As molasses, it was part of the notorious triangle of the slave trade. New England shipping families carried rum from local distilleries to Africa where it was traded for slaves who were then taken to work in Caribbean cane fields, harvesting sugar to make more molasses to be taken to New England and transformed into spirits.
Not all of it went abroad and for a while, until corn whiskey became America's favorite spirit, rum, then known as rumbullion, was found just about everywhere, including the famed cellars of Thomas Jefferson. In 1769, a cellar account book for Jefferson's home at Monticello, listed 15 bottles of Madeira, 54 bottles of cider and 83 bottles of rum.
The slave trade history of rum was not limited to New England. British merchants and shippers based in French ports such as Nantes and Bordeaux also engaged in the triangular traffic in commodities, bodies and rum. They may boast of their long association with wine, but many early French fortunes were also based on rum and slaves.
Up until World War I, rum was the favorite bar drink of Parisian cafes, rivaling absinthe and later, Pernod, which replaced it as the daily quaff for the common man. It never approached that level of popularity in the United States, but it does account for roughly 10% of all spirit consumption in this country.
Today, rum is usually distilled on its home grounds before being shipped to the United States, the shining exception being a distillery in New Orleans. Major producers such as Bacardi and Mount Gay, however, distill at home and bottle in the U.S.
A large part of the rum-drinking public favors flavored varieties, which account for 15% of all rums sold in the U.S. Captain Morgan extended its franchise with coconut-based Captain Morgan's Parrot Bay, a liqueur. Bacardi's entry is Limon, while other flavored rums include Whaler's Hawaiian Spiced, Great White and Vanille flavored rums, Hawaiian Distillers' Hana Bay and Hiram Walker's Coco Rhum. If you want something really novel, try Chaca, a Brazilian product with a slightly green tint.
Use inexpensive rums and flavored rums for your mixed drinks, but treat the fine old specialty rums like a Cognac or small-batch Bourbon, taken with, at most, a little ice. The aficionados in the Caribbean go for the simple rum drinks, such as rum punch, blending a few ounces of good, but not outstanding spirits, with a little lime juice and some sugar or cane syrup.
One of the most favored mixed drinks today, a shade more complex than simple rum and coca cola is the Mojito. Here is the recipe for that drink and several others which should please you and your guests.