Cognac has been in trouble during these last years and this has hurt the entire profession. But the good thing in it is that it helped us to remember that besides the labels known worldwide, there are still many traditional family producers. In the good times the vast majority of them used to sell a large part of their production of wine to the majors who then assembled their Cognacs. With the drop in consumption, particularly in Asia, the majors are no longer buying the quantities they used to, so the independent producers must now sell more under their own names.
Among these independents is Cognac Louis Bouron at the Château de la Grange. It has always been in family hands since its foundation by Louis Bouron in 1832, and must be one of the oldest ones of this kind. It is now run by his great-granddaughter Monique and her husband Bernard Parias.
In 1867, the domain reached its present size of 250 hectares [618 acres] of which 90 [222] are dedicated to vine. Its four vineyards are situated in the best three of the six growing areas recognized and authorized for making Cognac. This extension was very smart then and proves now very important as it allows Cognac Bouron to make their own blends with wines from the three areas, a privilege which only a few producers can afford. They grow only Ugni Blanc grapes to make the wines, and the growing areas give them their distinctive characteristics.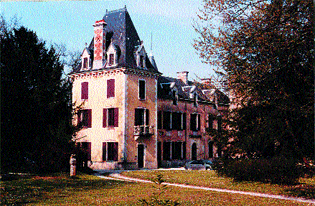 Forty hectares [99 acres] are in the Petite Champagne area [nothing to do with the sparkling wine of the same name], which makes wines with a very subtle taste, full of finesse and distinction. When young, they are rather aggressive and take a longer time to age and reach their maturity, taking some decades in cask to reach their peak of splendor.
Forty hectares are in the Borderies area, the wines of which are very perfumed, with a slight violet taste, a little less subtle than in Petite Champagne. They age faster and are used in all good blends to bring aroma, bouquet and body.
The last 10 [25 acres] hectares are in Fins Bois, where the wines are more robust, with a stronger body, and age still faster but without fading away. They are used in small proportion in the blends to bring them some roundness and body.

The grapes are picked before they are fully ripe, yielding a wine of just 7 to 9% alcohol, which are then distilled in the traditional way in a wood heated still, in 2 steps. The first step produces the brouillis, roughly 30° strong. This brouillis is then distilled again to make the cognac spirit, about 70° strong. At the Château de la Grange, all the wines coming from the different vineyards are distilled and aged separately, to prepare them for the final subtle process of blending.
The young cognac is then put in new Limousin oak casks (400 liters). There are altogether about 1,500 of them constantly at La Grange, the young ones replacing the old ones. The oldest casks contain cognacs 100 years old! That is where the family tradition is useful!
Then comes the blending, a mixture of alchemy and art conducted by the maÎtre de chais. It is a most delicate task to put together different cognacs at different stages of their aging process, to make another cognac which after further aging will become a true golden marvel. It is necessary to imagine in advance, with the fruit of experience, what a blend will one day become after several years of aging.
The last step is to reduce the cognac by gradually adding water to bring it down to 40 or 43° alcohol. It is then ready to be bottled and labeled. A part of the production goes for private labeling and you may find some bottles on the tables of some great restaurants under their own names.
The domain is of course open for visits and tasting, and I would recommend doing it in the morning, when your palate is still fresh and ready to appreciate these subtle spirits. Going to the Château de la Grange is an experience in itself. Leaving the road, you enter a large park planted with high old trees, and arrive in front of an 18th century manor flanked by 2 towers from the 14th and 15th centuries.
You should then try a vertical tasting, from the 3 stars to the Reserves. That is the only way you can feel the soul behind the alcohol. You can tell the difference between the spirits as they get older and how they evolve and develop with time. Prestige sees 7 years in cask; VSOP 10 years; Blason d'Or 15 years; Napoléon 20 years; Grande Réserve 30 years; and Très Vieille Réserve more than 40 years! But always, in each of them you can recognize the character of the Bouron Cognac. It is not unlike a child which grows up to be a man and then becomes a sage. It is this kind of feeling which makes traditional cognacs so distinctive, that brings to mind the heart and soul of the people who craft it.
To celebrate the entrance into a new century, the heirs of Louis Bouron have assembled a new blend of cognacs kept through several generations of their family. They call it Heritage as it is truly the expression and the achievement of a family tradition, taste and art over almost two centuries.
Cognac Louis Bouron - Château de la Grange - BP 80 - 17416 Saint Jean d'Angély - Tel: 33 (0)5 46 32 00 12 - Fax: 33 (0)5 46 32 00 11
email: cognaclouisbouron@swfrance.com