For cuisine with character, there's nothing quite like the flavor of herbs to bring distinctive appeal to foods. From the Mediterranean flair of oregano to the piney aroma of rosemary, their versatility is unsurpassed. Herbs have been sought throughout history and traded the world over to become an essential ingredient for cooks and connoisseurs everywhere.

Today you can embrace a new group of herbs that go beyond the ordinary, bringing with them a taste of the exotic. Now you can experience the tropical flavor of pineapple sage or kaffir lime leaves. Take a culinary journey with the South American native lemon verbena. Taste your way to the Orient with lemon grass, or savor the alluring citrus/musk flavor of orange balsam thyme.


Kaffir Lime Leaves
A tropical fruit native to Thailand, kaffir lime is sometimes referred to as Ômakrut' lime (Citrus hystrix). According to The Oxford Companion to Food by Alan Davidson, kaffir is "an epithet which has been used, especially in southern Africa, of certain plant foods, for which it is now preferable to use names less likely to cause offence". The term 'Ekaffir' originated from an Arabic word meaning non-believer or infidel, and as such is falling out of favor for many. Therefore the dried leaves and rind may be found in Asian markets listed as either kaffir or makrut lime.


The citrus fruit displays a green, bumpy skin and is about the size of a typical lime. Though the juice is bitter, the strongly flavored peel is sought after in many Southeast Asian dishes, especially curry. Even more aromatic and intensely flavored are the fresh leaves, which are sometimes available in Asian markets, as well. Whenever citrus leaves are used in Thai cuisine, kaffir lime leaves are an irreplaceable favorite. Use them to flavor broth, soups and stews as you would bay leaves, removing them before serving. For dishes where they will be eaten, such as salads, stir-fries and curries, thinly slice leaves of similar size with a sharp knife.


Lemon Grass
Perhaps best described as a native of tropical Asia, lemon grass (Cymbopogon citratus) may have originated from either Thailand, Malaysia, or India. It is widely grown throughout Southeast Asia and frequently used in Asian cuisine. Ornamental in appearance with a floral lemon flavor and equally pleasant lemon scent, the scallion-like base and grassy stalks adds a refreshing zip to soups, zest to chicken and seafood dishes, and makes curry sing with flavor. It combines appetizingly well with garlic, ginger, coriander, and spicy chilies.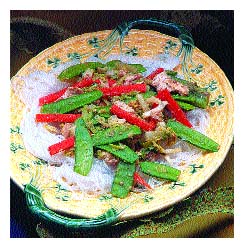 When available, use fresh leaves instead of dried (found with other specialty herbs and produce at most large supermarkets as well as Asian markets), as the essential oils may be weakened or lost during the drying process. You can use the tough outer leaves to lend a citrusy flavor to broths, soups and stews (remove them before serving). The true treasure lies hidden beneath its outer leaves, much like a prized artichoke heart. Add minced tender leaves and the white bulb to stuffings, sprinkle them into salads, or sizzle up a stir-fry.

If you're feeling a bit adventurous, you can buy a plant at your local nursery or farmers' market. A tender perennial, lemon grass is incredibly easy to grow. If you live in an area where winters are cold, just dig it up, put it in a pot and bring it inside for the winter.

Lemon Verbena
Spanish explorers discovered this towering 15 foot high deciduous shrub in Argentina and Chile during the seventeenth century. Once lemon verbena (Aloysia triphylla) was introduced to Europe, it was immediately coveted for its aromatic oils and unrivaled fresh lemon scent. With its tiny pale lavender flowers and willow-shaped leaves, lemon verbena remains a favorite ornamental in many gardens today.

Perhaps no other herb can appease the true lemon lover as can lemon verbena. As a proclaimed lemon lover, I compared the flavor of six different lemon-scented herbs (lemon verbena, lemon grass, lemon balm, lemon thyme, lemon catnip, and lemon-scented geranium). I must say, lemon verbena has become my personal favorite as well. Often called the "queen of lemons," its leaves are brewed into a delicious pot of lemon-flavored tea. Use leaves dried or fresh wherever a light touch of lemon flavor is welcomed. Lemon verbena lends itself well to many foods, including drinks, salads and fruit dishes, salad dressings, marinades and baked goods as well as desserts. Lemon verbena equally brightens the flavor of fish and chicken as well as vegetable and rice dishes.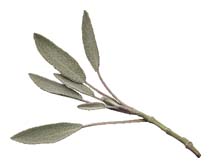 Pineapple Sage


Pineapple sage (Salvia elegans) is a master imitator when it comes to true pineapple fragrance. One whiff of its intoxicatingly delicious pineapple-scented foliage evokes visions of a refreshing tropical paradise. Indigenous to the Mediterranean, Asia Minor, Central and South America, pineapple sage has been grown in gardens for over 125 years.


Nothing quite quenches a summer thirst like a exhilarating glass of pineapple sage ice tea. Brew a sun tea with an equal amount of lemon verbena leaves for a one-of-a-kind summertime beverage. The brilliant red tubular flowers create a delightful edible garnish for cakes, puddings, or even ice cream.


Use fresh or dried leaves with foods that are enhanced by the light tropical flavor of pineapple. Dice a few leaves into fruit salad, or heighten the flavor of cheeses and desserts. Add a tropical twist to jams and jellies or vinegars and marinades. Look for pineapple sage at specialty stores or supermarkets, however, this tender perennial is very easy to grow and widely available at garden centers. Besides, a plant this stunning should be included in any garden or landscape.


Orange Balsam Thyme
A notable herb native to the Mediterranean region and Southern Europe, thyme has become a principle seasoning throughout. There are over 400 species of this widely cultivated aromatic herb. While common thyme may not sound quite so exotic, the varieties of sweetly scented thymes will surely whet anyone's appetite at the mere mention of their names. In the mood for a pineapple thyme? Perhaps lemon or nutmeg thyme are more to your liking (just imagine the possibilities!). However, if it came down to choosing a culinary favorite, orange balsam thyme (Thymus vulgaris 'Orange Balsam') has captivated my palette with its subtle blending of thyme and an alluring musky orange scent and flavor.


The sensational flavor of orange balsam thyme is highly favored in West Indian cooking as well as in soups, salads, breads, and rice dishes. As a flavored vinaigrette, this herb is outstanding. It excels in French cuisine as well as Creole and Cajun, and can be used to season or garnish any foods that marry well with common thyme.


Most likely, you'll discover this up-and-coming herb at only the most select farmers' markets or specialty stores. If you're unable to find orange balsam thyme in your area, this evergreen perennial can be grown throughout most of the country. Look for plants at your local garden center or farmers' market. Two great mail order sources are Goodwin Creek Gardens, 541/846-7357, and Richters Herbs, 905-640-6677.