Humanity faces certain inevitabilities: death, taxes, really sleazy talk shows and hot summer days. On these halycon scorchers, a not-so-young man's fancy may turn to thoughts of Viagra, but more likely will concern an uncontrollable urge for liquid refreshment. If you're lucky, you live within walking distance of a brewery taproom or a local liquor store that stocks fresh Berliner Weisse. But realistically, most of us, unlike W.C. Fields, have times when an alcoholic beverage isn't quite apropo. Sometimes the quaff du jour is a teetotaller's fantasy: iced tea.
It used to be that your choices were between some instant tea that made guys fall backwards into swimming pools...and some instant tea that made guys fall backwards into swimming pools. Now there are countless pre-made teas available to the consumer: some as pure as the proverbial wind-driven snow, others more heavily sweetened than an episode of Touched By An Angel.


Prepared teas have been a booming and evolving market in the last decade. Glistening cold cans of Nestea and Lipton were soon followed by Snapple and a hundred fruity spin-offs. The market emphasis today is on exotic flavors, life-giving natural elixirs with healing ayurvedic herbs straight from the ancient world. Many current products aspire to offer that honest-to-God brewed tea experience along with those bastions of Western society (Hallelujah!) portability and ease of use.

Here's a brief cross-section of "brisk brisk brisk" iced teas and tea products competing for your parched palates: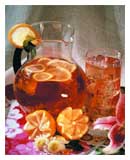 TEXAS SELECT TEA COMPANY
The company dubs these "Iced Teas For The Soul", and while I didn't instantaneously head for a Tibetan monastery, I found their products pleasant, well-balanced and very drinkable. Their light-bodied fruit teas can be heavily iced to make a good hot weather beverage. Texas Select Tea Company suggests "fridge brewing" these by using one tea bag for each quart of cold water, then letting the pitcher o' brew chill for six hours. Flavors include a tangy and mildly sweet Kiwano Mango, the tart/sweet and lemony Citrusberry Splash Strawberry, and Tropical Peach, a very fruity mix of the Georgia icon with passion fruit. They also offer a very good traditional iced black tea, Texas Select Tea Company Classic, featuring a China Black and Keemun blend. Contact Texas Select Tea Company at the company's website, www.texasselecttea.com.

PARADISE TROPICAL TEAS
A mixture of China Black and Garden Ceylon teas with tropical fruit nectars and flowers (marigold, rose, cornflower, thistle). It is formulated for iced tea, but I had better results using a hot brewing method rather than the "fridge brewing" technique. Decaffeinated Original has a peach juice color and is extremely light bodied, with a papaya/passion fruit/mango taste up front. The Original Blend is similar, but with more body and a very good balance of tea and fruit flavors. Additional variations - Mango, Papaya and Passion - are also quite fruity and quaffable. Paradise Tropical Teas are unsweetened (unlike many tea products which list "high fructose corn syrup" as the first ingredient) so they would blend well with fruit, herbs or juices. Available at Trader Joe's and Spice of Life.


SOBE
Sobe's teas, in cylindrical clear 20 oz. bottles, monogramed "Beach Brew" and adorned with a striking "dueling lizards" logo, typify the new wave of sweetened iced teas. All feature "3G", an herbal triple threat (ginseng, guarana and gingko) and a sweet house flavor which utilizes spices for balance. I'd recommend serving these with a twist of lemon or lime. Green Tea offers a unique honeydew melon taste, with herbal undertones. Sweet/sour interplay and hints of watermelon characterize Sobe's Oolong Tea. The Red Tea with selenium is very sweet, notable for its strong cinnamon hearts/cloves/teaberry aroma and flavor. The ginseng and tea flavors are strongest in the Black Tea, a good blend with maple and plum overtones. Check out their web site, www.sobebev.com.

ARIZONA
Green Tea With Ginseng And Sue Bee Clover Honey (very sweet, almost nectar-like in body). The clover honey is really up front here, supported by a bit of ginseng earthiness. Best part: the herbaceous green tea background. Good, but definitely on the sweet side; would be excellent with lime and ginger. These are available in 12 oz. cartons, complete with handy-dandy straw. This is just one of many tea and fruit drinks available in the Arizona Beverage Company product line. More information is available from their web site, www.arizonabev.com.

HONEST TEA
Honest Tea Company of Bethesda, Maryland, provides a wonderful alternative to sweet tea drinks. Honest Tea's drinks are sold in bottles, and this year they have introduced whole leaf premium tea bags, as well. Honest Tea's Jakarta Ginger is made from 100% organic ingredients: Ginger from Kauai, lemongrass, agave nectar and green tea. It has no sugar, corn syrup, fructose, asparatame, artificial colors or flavors. It's dry, flavorful, and if you can the herbal pundits, it may relieve motion sickness. In anycase, it has a nice subtle ginger flavor that is not too spicy, it's dry, refreshing, and only 18 calories for a 16 oz. bottle. Unlike so many sweet competitors, Jakarta Ginger has a really clean, pleasant finish. You can find out more about Honest Tea and all things herbal at their website, www.honesttea.com.