February 2001

92 Dry Creek Vineyard 1997, Dry Creek Valley, Millennium Cuvée, EPOCH II

On my first pass I was unimpressed, but with some air this wine takes on majestic proportions. Full-bodied, round and deep, offering a mouthfilling melange of tart berries, plums, nutmeg, vanilla, and dark bitter chocolate, with moderate tannin and a warm finish. You can enjoy it now, or on some special occasion two decades away.


91 Beringer 1996, Napa Valley, Private Reserve

Immediately enjoyable, this is one of the most elegant Private Reserve's Beringer has produced – it has a vibrant, fruity, aromatic nose; it's smooth on the palate, with firm structure, soft tannin, supple blackberry fruit and a touch of cassis character, as well as hints of cocoa. Not the least bit angular, all of the elements make a seamless whole.


89 Mazzocco 1996, Sonoma County

Full-bodied blackberry with nuances of dark chocolate, silky smooth with good structure and soft tannins. A pleasure to drink now, it should age gracefully over the next decade.


89 Pine Ridge 1998, Napa Valley - Rutherford

Reeks of Rutherford dust – dry cassis and cherry with a touch of cocoa and a drying finish


89 William Hill 1997, Napa Valley, Reserve

The nose is restrained, hinting at currants, while the flavors are lively and intense, displaying bright red (not black) currants, tart acidity with moderate tannins. Light bodied with perfectly integrated oak.


89 Clos du Bois 1997 Marlstone Vineyard Alexander Valley, 52% Cabernet Sauvignon, 44% Merlot, 4% Petit Verdot

A nicely packaged, medium-bodied blend of Bordeaux varieties that yields ripe blackberry, black cherry and dark chocolate flavors, with moderate tannin and excellent balance. Drinks well now and will improve over the next decade.


88 Sawtooth Winery 1998, Idaho

Totally seductive. Lush blackberry, mint, cocoa, pleasantly sour and herbal on the palate, moderate tannin and a warm finish.


88 Wyndham Estate 1999, South Eastern Australia, Bin 444

Dried herb and earth overtones to cherry-raspberry fruit. It has light tannin, good balance and length. Good value.


88 Bonterra 1997, North Coast organically grown

grapes

82% Cabernet, rounded out with some Syrah and Merlot. As with all Bonterra wines, this one is well-mannered and balanced. The fruit is reminiscent of ripe plum and tart black currant, accented with a hint of toast and green olive. On the palate the texture is soft, the tannins firm but integrated, and the finish is dry and of moderate length.


88 Sobon Estate 1998, Shenandoah Valley of California, Signature Select Program Reserve

Sobon's first Reserve Cabernet produced only 220 cases. It's deep purple, with toast, concentrated plum and blackberry aromas and a touch of cedar. On the palate it's herbaceous and toasty, with soft, chewy tannins and a little spice in the lengthy finish.


88 Beringer 1997, Knights Valley, Alluvium , Red Wine

A Bordeaux-style wine made-up of Merlot, Cabernet Sauvignon, Cabernet Franc, Petit Verdot and Malbec, Alluvium is an extremely rich, highly extracted wine. Deep fruit, with moderate tannin, blackberry-plum fruit, and well-integrated oak spice. Big and mouthfilling.
October 2000

93 St. Supéry 1996, Napa Valley, Meritage Red:

A classic Bordeaux-style blend of 87% Cabernet Sauvignnon, 9% Cabernet Franc and 4% Merlot, the '96 St. Supery Meritage offers up rich, concentrated blackberry and cassis fruit, with some light spice, hints of vanilla, smoke and dark chocolate, with firm well-integrated tannin, outstanding balance and a long, very fruity and complex finish.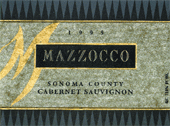 91 Mazzocco Vineyards 1995, Sonoma County, Cabernet Sauvignon:

Subtle layers of leather, mineral and cassis, with soft tannins. This is a dry, classically structured wine with modest alcohol (a rarity in California these days). Very satisfying.


91 Rodney Strong 1996 Alden Vineyards Alexander Valley

Rich, powerfully aromatic, cassis and cherry fruit, with medium body and moderate tannin, and a warm long finish.


91 Fleur du Cap 1996, South Africa

Over the last five years South Africa has proven it can produce world-class Cabernet. This one is redolent of cassis and blackberries, has soft tannins, ripe luscious fruit on the palate and a fruity finish with tobacco leaf notes. First rate.


90 Robert Craig 1997, Mt. Veeder Napa Valley

Earthy blackberry with a touch of cassis and fully integrated oak spice, moderate tannin and a lengthy finish. This is a classically structured wine that is enjoyable now. Tthough it seems to be holding back a little at the moment, it should age very well.


88 Hogue 1997, Columbia Valley, Barrel Select

Full-bodied with lush blackberry fruit and light herbal edges, soft tannin and a silky texture. A fruit-forward style of Cabernet with some complexity in the finish. This is a wine that should appeal to connoiseurs and novices alike.


December 2000

98 Robert Mondavi 1997, Napa Valley, Reserve

From the great 1997 vintage, this is an expansive Cabernet with ripe blackberry fruit, a bit of mint, tobacco leaf and milk chocolate. The tannins and soft and integrated, the overall balance superb, showing intensity with proportion. This one raises the bar for future Mondavi Cabernets.


94 St. Clement 1998, Napa Valley Oroppas:

A masterful Bordeaux blend of 50% Cabernet Sauvignon, 38% Merlot and 12% Cabernet Franc – a smooth, fully integrated wine with ripe blackberry-cherry fruit and ginger, soft tannin, and a fruit-and-spice finish that lingers for minutes. Perfectly balanced, the nose is expansive and penetrating, and the palate complex and generous.


94 M. Trinchero 1997, Napa Valley Founder's Estate

Round and penetrating with a taste that doesn't attack, but envelops, every element integrated into a whole so seamless that it creates one impression. You've never tasted a more approachable young Cabernet (the tannin is unobtrusive), and the flavor is like black currant and subtle spice. A real achievement from the makers of Sutter Home wines.


93 Rodney Strong 1997 Alexander's

Crown

Vineyard Northern Sonoma, Estate Bottled

This well-balanced Bordeaux-style blend of Cabernet Sauvignon, Merlot and Cabernet Franc presents deep blackberry fruit with a touch of cassis, hints of chocolate and toast in the background, mouthfilling yet soft tannins and a long fruity finish. It's thoroughly enjoyable now, especially with beef, lamb or pizza, but it also has the guts to age a decade or more. A slam dunk.


94 Rodney Strong 1996, Alexander Valley, Symmetry

Simply put: Wow! What a sensuous wine–a deep, complex blend of Cabernet Sauvignon, Merlot and Cabernet Franc, Symmetry evokes cherry pie, blackberry, smoke, vanilla, and cedar. Perfectly structured and capable of a decade or more of aging, this wine is so voluptuous and giving now that you'll be tempted to quietly ponder a few glasses by the fire. It would be a marvelous accompaniment to a special meal.
December 2000

93 St. Clement 1997, Napa Valley, Cabernet Sauvignon:

Expansive cassis, dark chocolate and cedar on the nose. On the palate it adds notes of vanilla, spice, rhubarb, green olive and blackberry. Penetrating, and deep, this is a great Napa Valley Cabernet from a great vintage.


93 Nickel & Nickel 1997, Stelling Vineyard Napa Valley

Nickel & Nickel's third Oakville Cabernet comes from the vineyard most responsible for Far Niente's fine Cabernets. This is a stellar wine that inspired fellow tasters to pronounce, "It sings in four part harmony," and "it's definitely running on all cylinders." Supple, with deep, complex, cherry-berry and spice flavors that are difficult to describe, but very easy to enjoy.


93 Robert Craig Wine Cellars 1997, Howell Mountain Napa Valley

Nutmeg and vanilla over blackberry on the nose; balanced, dry and spicy on the mid-palate; great depth coupled with subtle oak, toast and spice through the finish. The tannin is soft and fully integrated. A very elegant wine with great potential.


92 Phoenix Vineyards 1997, Napa Valley

The debut vintage of Phoenix Vineyards' estate Cabernet Sauvignon is full-bodied, with big juicy black current fruit accented by tobacco leaf and toast overtones, great depth, soft chewy tannins, and an almost sweet impression on the finish.


92 Robert Mondavi Winery 1997, Oakville District Napa Valley, unfiltered

Deeper, with sweeter fruit and softer texture than the SLD, but the tannin is actually more astringent, leading to a drying finish. Great potential for the patient collector.


92 Stellenryck 1996, South Africa

Fascinating, world class Cabernet–complex and very engaging nose of black currant, dry, berry fruit, subtle oak and vanilla, moderate tannin and a long finish. Excellent now, it will certainly age a long time. It would pair well with aged beef or lamb. Good value


91 Robert Mondavi Winery 1997, Stags Leap District Napa Valley, unfiltered

Big and full of potential, the SLD is packed with ripe blackberry fruit, subtle herbs and firm tannins. A wine to lay away for five to ten years.


91 Clos du Val 1996, Napa Valley, Reserve

Almost too subtle for many to appreciate, this is a superbly balanced Cabernet, all of a piece, with a medium level of intensity throughout. It offers cassis and cherry fruit augmented by mint and cocoa undercurrents, subtle oak spice and soft tannins that make it immediately accessible.
90 Meridian Vineyards 1996, California, Coastal Reserve Cabernet Sauvignon:
A fabulous Cab, rich cassis aroma, full-bodied, sweet ripe blackberry fruit on the palate, soft tannin, and a dark chocolate-cherry finish.


90 Seven Peaks 1997, Central Coast, Cabernet 69% Shiraz 31%

Rich blackberry and aromatic dried marjoram, full bodied, moderate tannin. A supple with dark berry fruit and superb balance. A winery to watch.


90 Kenwood 1997 Jack London Vineyard Sonoma Valley

A dense, concentrated Cabernet with substantial, though subtle tannins. Big and brawny, it's built to last for the long haul.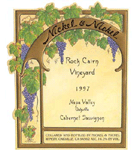 90 Nickel & Nickel 1997, Rock Cairn Vineyard Napa Valley

Another Cabernet from the Oakville area of Napa Valley, this one has a voluptuous cherry nose. It's full-bodied, with refined flavors on the palate of fully integrated oak and cherry fruit, moderate spice and good length.