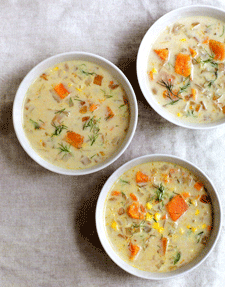 Ingredients:
1
small butternut squash
3 tablespoons
butter
1
small onion, finely chopped
1
fennel bulb, finely chopped
1
carrot, finely chopped
1
garlic clove, finely chopped
1/2 teaspoon
dried chili flakes
2 tablespoons
all-purpose flour
3 cups
vegetable stock or good-quality bought stock
1 cup
whole milk
2
corn cobs, kernels sliced off
a small bunch of dill, finely chopped
a squeeze of lime, to taste
This and many other wonderful recipes may be found in Alice Hart's
Vegetarian


The humble potato has been ruthlessly fired from chowder duty and replaced with the more vivacious butternut squash, cubes of which dot this paie soup like orange jewels, But either vegetable works weil in this dish, so don't hesitate to reinstate potato if you have some on hand - 1 lb 2 oz will do niceiy—to produce a slightly milder soup.
Peel the butternut squash with a swivel vegetable peeler. Cut in half lengthwise, scoop out the seeds, and dice the flesh into large cubes.
Melt the butter in a large, deep saucepan. Add the onion, fennel, carrot, and garlic, and cook gently for 10 minutes, stirring often, until softened but not colored. Add the chili flakes and flour and stir for a further minute, followed by the cubed squash and vegetable stock. Bring to a boil and simmer for 10 minutes or so until the squash is tender.
Add the milk, corn kernels, and dill and simmer for 5 minutes more. Season well and add a squeeze of lime.