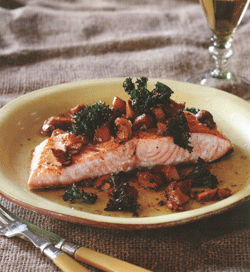 Ingredients:
1 bunch
kale, leaves pulled from stems in bite-size pieces
Extra-virgin olive oil, for drizzling and sauteing
Fine sea salt
About 1 pound
fresh chanterelles, stem ends trimmed if dry and woody
Freshly ground black pepper
5 or 6
garlic cloves, minced or pushed through a press
1/2 teaspoon
balsamic vinegar
1 1/2 pounds
wild-caught salmon fillets
This and many other wonderful recipes may be found in Brigit Binns's
The New Wine Country Cookbook: Recipes from California's Central Coast
Born out of a windfall of chanterelles foraged by my husband, Casey, one January in See Canyon, south of San Luis Obispo, this deceptively simple dish can travel effortlessly from white-linen dinner to raucous, rough-hewn wooden tabletop repast. Once, central California gave us everything we would need to create this riot of flavors and textures, from its superb and precious wild salmon to the deep green kale and gutsy garlic. Depending on the now-unpredictable nature of the California salmon season, you may instead find wild-caught salmon from Oregon, Washington, or Alaska. All are great choices, as is, in a pinch, farmed salmon from New Zealand or Scotland. Farmed salmon from the United States? Not so much.
Preheat the oven to 375°F. On a large, rimmed baking sheet, drizzle the
kale
with some olive oil and sprinkle with salt. Toss and massage with your fingertips until each piece is coated with a thin layer of salty oil. Bake for 15 minutes, then toss with tongs and roast for 5 to 6 minutes more. The kale should be deep, dark green with the occasional brown edge.
Meanwhile, slice the mushrooms about 1/3 inch thick, then cut into manageable chunks. Warm a little olive oil in a saute pan and cook the mushrooms until they give up their liquid. Keep cooking until all the liquid is evaporated and the pieces begin to brown. Add a little more olive oil to keep them from scorching. Season with salt and pepper, then stir in the garlic and vinegar; cook for 1 minute more.
Line another baking sheet with baking parchment and place the salmon on it, skin side down. Season lightly with salt and pepper. Remove the kale and let rest while the salmon goes into the oven for 10 to 12 minutes per inch of thickness. Divide the salmon among plates and top with a jumble of chanterelles and kale.