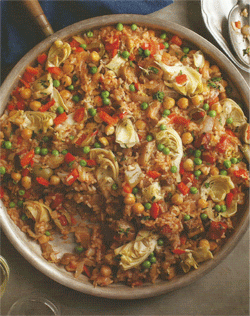 Peanut Sauce:
1 tablespoon
olive oil
1
large yellow onion, chopped
2
cloves garlic, minced
1
medium eggplant, peeled and cut into 1/2inch dice
1
red bell pepper, seeded and coarsely chopped
1 cup
uncooked short-grain white rice
1 1/2 cups
vegetable broth
1 pinch
of saffron threads
1 teaspoon
smoked paprika
1
bay leaf
1 teaspoon
dried oregano
1/2 teaspoon
red pepper flakes
1 (28-ounce) can
diced fire-roasted tomatoes, undrained
Salt and freshly ground black pepper
1 1/2 cups
cooked chickpeas, or 1 (15.5-ounce) can, drained and rinsed
1 (6-ounce) jar
marinated artichoke hearts, drained and chopped
1 cup
frozen green peas
1/2 cup
sliced pimiento-stuffed green olives
2 tablespoons
chopped fresh Italian parsley
1 teaspoon
finely minced lemon zest
Serves 4
This and many other wonderful recipes may befound in
Robin Robertson's Vegan Without Borders
Saffron is traditional in this voluptuous Spanish stew, but if you dont have any you can leave it out and you'll still have a delicious dish. If you're not a fan of eggplant, substitute diced mushrooms. For a heartier dish, add 8 ounces of diced seitan, vegan sausage, or steamed tempeh.
Heat the oil in a large saucepan or Dutch oven over medium heat. Add the onion and cook for 5 minutes to soften. Add the garlic, eggplant, and bell pepper and cook 3 minutes longer. Stir in the rice, 1 cup of the broth, and the saffron, paprika, bay leaf, oregano, red pepper flakes, and diced tomatoes and their juice. Bring to a boil, then lower the heat to medium. Season with salt and pepper to taste, cover, and simmer for 20 minutes. Stir in the chickpeas, artichoke hearts, peas, and olives. If the mixture seems dry, add the remaining 1/2 cup of broth. Stir in the parsley and lemon zest and cook until the rice and vegetables are tender, about 10 minutes longer. Remove and discard the bay leaf. Taste and adjust the seasonings, if needed. Serve hot.
Note: You can use brown rice instead of white if you prefer, but it will take longer to cook, so allow more time.