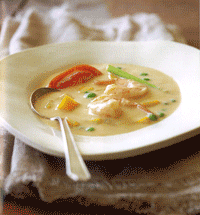 Ingredients:
1
small kabocha squash, about 2 pounds
2 1/2 cups coconut
milk
1 to 2 tablespoons
Thai red curry paste
1 1/2 teaspoons
sugar
3 tablespoons
fish sauce
1/2 cup
chicken broth
2 l
emongrass stalks, bottom 4 inches only, tough outer leaves removed, halved crosswise, and bruised
1/2 pound
large shrimp, peeled and deveined
1/2 cup
fresh or frozen peas
4
Roma (plum) tomatoes, quartered lengthwise
This and many other wonderful recipes may be found in
Sara Deseran's
Asian Vegetables
from Chronicle Books
You may not have come across this Thai curry before, but coconut and kabocha are a classic combination. I prefer to add shrimp, but a traditional addition is roasted duck. The key to making a good curry is to fry the curry paste in coconut cream. It brings out a deep, mellow flavor reducing any potential bitterness. To secure the coconut cream, do not shake the can of coconut milk before you open it (you will probably need to open two cans for this recipe, as most hold less than the 2 1/2 cups needed). Remove the lid and skim off the layer of cream sitting on top of the milk to use for frying. Gauge how much curry paste to use by tasting your particular brand, as each one varies in heat and saltiness. If kabocha squash isn't available, butternut squash makes a good substitute. Serve the curry with lots of jasmine rice.
Using a sturdy chef's knife or cleaver, split the kabocha squash into quarters through the stem end. Remove the seeds and fibrous strands with a spoon. Place the squash on a cut side to steady it, then carefully, aiming your knife downward, remove the skin. Cut enough 1-inch chunks to make 4 cups.
To make the curry, heat a wok over high heat. Scoop the thick coconut cream off the top of the coconut milk and add it to the pan, followed by the red curry paste. Fry the paste in the cream, stirring constantly, for about 3 minutes, or until it becomes aromatic and richer in color. Add the sugar and fish sauce and stir to combine. Pour in the remaining coconut milk and the broth, mix well, reduce the heat to low, and add the lemongrass and squash. Cook for 20 to 30 minutes, or until the squash is tender when pierced with a fork.
Add the shrimp and peas and cook for 3 to 5 minutes, or until the shrimp are opaque. Add the tomatoes and cook for 1 minute longer until heated through. Turn into a bowl and serve at once.