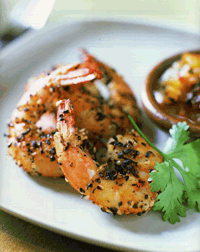 Ingredients:

Oil for coating grill screen




1 pound extra-large (26-30 Count)

shrimp, shelled and cleaned




2 teaspoons

toasted sesame oil




1 teaspoon

Sesame Szechwan Salt


1 Cup

Grilled Mango Chutney


Prep: 5 minutes (plus 5 minutes for Szechwan salt and chutney)
Grill: 3 to 4 minutes

Grill Tools and Equipment

Clean Grill screen
Long-handled spatula

Gas:

Direct heat, medium-high (425°F to 450°F) Clean, oiled grate


Charcoal:

Direct heat, light ash 12-by-12-inch charcoal bed (about 3 dozen coals)
Clean, oiled grate on lowest setting


Wood:

Direct heat, light ash. 12-by-12-inch bed, 3 to 4 inches deep
Clean, oiled grate set 2 inches above the fire

This and many other wonderful

recipes may be found in

Andrew Scholl and David Joachim's

Mastering the Grill

from Chronicle Books


The floral, lightly peppery scent of Szechwan pepper is a natural with tropical fruit. In this recipe, a Szechwan rub seasons quickly grilled shrimp that are served topped with a grilled fresh mango sauce. The vibrant colors (coral pink shrimp, sunset orange mango), disparate temperatures and textures (a pop of hot shrimp, a slurp of chilled sauce), and flavor (floral spice meets peppered fruit) are enough to cause swooning.
1. Heat the grill as directed. Put the grill screen on the grill and coat it with oil.
2. Toss the shrimp with the sesame oil in a bowl until coated. Spread the shrimp out on a sheet of foil and season with the Szechwan salt.
3. Grill the shrimp on the oiled screen, with the grill covered, 1 to 2 minutes per side, until firm and slightly browned.
4. Serve with the Grilled Mango chutney as a dip.