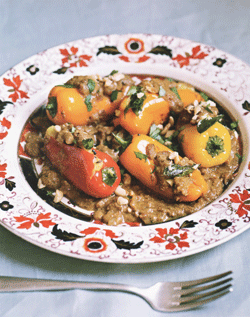 Ingredients:
1/2 cup
raw peanuts, skins rubbed off if there are any, plus more to serve (optional)
2 tablespoons
sesame seeds
1 tablespoon
cumin seeds
1 rounded tablespoon
dry unsweetened coconut, plus more to serve (optional)
7 tablespoons
vegetable oil
2
onions, minced
3/4 ounce
gingerroot, peeled weight
4
large garlic cloves, peeled
2
tomatoes, quartered
1 rounded tablespoon
ground coriander
1 1/2 teaspoons
garam masala
1/2 teaspoon
turmeric
1/4-1/2 teaspoon
chili powder, or to taste salt, to taste
1/2-3/4 teaspoon
tamarind paste, dissolved in 3 tablespoons boiling water, or to taste
12
baby mixed peppers
3/4 teaspoon
mustard seeds
10
curry leaves
small fistful
of chopped cilantro leaves, to serve (optional)
For the stuffing:
1/2
onion, minced
2/3 teaspoon
turmeric
1 pound
potatoes, boiled or microwaved, peeled, and coarsely mashed
1 rounded teaspoon
cumin seeds
1 1/2-2 teaspoons
lemon juice
This and many other wonderful recipes may be found in Anjum Anand 's
Indian Vegetarian Feast
This is based on a vegetarian national treasure, mirdh salan, a Hyderabadi dish of fat, large green chiles in a peanut and tamarind sauce. The combination is fabulous. But I recently came across these lovely mixed baby sweet peppers at my local supermarket and decided they would be great in the dish. If you like a little more heat, find large, fat, jalapeno-type dhiles and follow the recipe below, except add them to the sauce and simmer for a few minutes at the end. It is definitely a special occasion dish, but is fun to make and well worth it. The sauce also goes well with mushrooms, eggplants, okra, and many other vegetables. I like to have some naan on the side to mop up all those lovely flavors.
Dry-roast the peanuts in a small skillet for a minute and pour into a spice grinder. Add the sesame and cumin seeds to the skillet and dry-roast gently until the sesame is golden. Pour into the spice grinder with the coconut and grind to a powder; don't worry about any chunks.
Heat 4 tablespoons of the oil in a pan and add the onions; saute until golden. Meanwhile, with a stick blender, blend the ginger and garlic with a little water until smooth. Separately, blend the tomatoes until smooth. Add the ginger and garlic to the onions and saute until the garlic colors. Add the tomatoes, ground spices, and salt. Bring to a boil and cook for 10 to 15 minutes, until the masala releases oil back into the pan. Brown this paste, over highish heat, for three to four minutes, then stir in the ground nut mixture. Add l 3/4 cups of water, return to a boil, and simmer for eight minutes. Add most of the tamarind, then adjust the seasoning and tamarind. It should be a slightly chunky, creamy curry, neither watery nor too thick.
For the stuffing, heat 1 tablespoon of the remaining oil in a large nonstick skillet. Add the onion and cook until soft, add the turmeric and, after a beat, the potato, cumin, and salt to taste; cook for two minutes. Add the lemon juice, mix, adjust the seasoning, and place in a bowl to cool. Give it a good mash if it is lumpy. Wipe the pan. Slit the peppers lengthwise so you can open them, then stuff them. Do not overstuff.
Cook the peppers in two batches: in 1 tablespoon of the remaining oil for each batch, add half the mustard seeds, and reduce the heat. Once the popping dies down, add half the curry leaves and peppers. Stir for 20 seconds and season lightly. Then add a splash of hot water, cover, and steam for 10 minutes or until the peppers are soft; they will have lightly charred in places. Shake gently every so often. Keep warm while you repeat with the next batch.
Place the peppers on warmed plates. Spoon the sauce over and sprinkle with coconut, or peanuts and chopped cilantro. Serve hot.
Serves 6