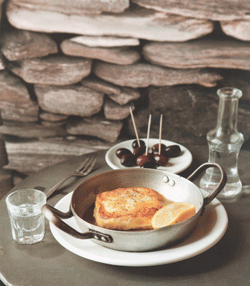 Ingredients:
Light olive oil, for frying
1 egg, lightly beaten
All-purpose flour, for coating
4 1/4 ounce, 3/4-inch thick slice kasseri-style cheese, or talagani
Lemon Quarters, for serving


This and many other wonderful recipes may be found in Tessa Kiros's
Food from Many Greek Kitchens from Andrews McMeel Publishing
There is a typical pan called a saganaki which is used for cooling and serving this - a small pan with handles on either side. You can use kasseri, kefalotiri or a softer type of Greek cheese such as talagani, which is my favorite for this savory version. Serve hot with lemon on the side for squeezing over.
Pour olive oil into a small non-stick skillet to a depth of roughly 1/2 inch.
Put the egg in one flat bowl and the flour in another. Heat the oil over medium-high heat until a cube of bread dropped in the oil browns in 15 seconds.
Dip the cheese slice in the egg, then pat it in the flour to coat well. Put the slice into the oil and fry until golden on both sides.
Splash its sides with oil to make sure that they are fried golden, too. The cheese must be crisp on the outside and softened on the inside. When done, remove the cheese from the pan with tongs and drain on paper towels. Serve hot, cut up into squares and with lemon juice squeezed over the top. If serving in the pan, remove the cheese, pour away the oil, wipe the pan with a paper towel, return the cheese to the pan and squeeze some lemon over.