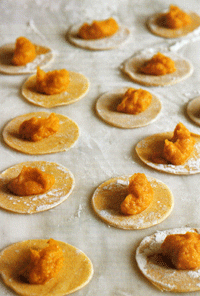 Ingredients:
4 cups
pumpkin, peeled, seeded and chopped
2 tablespoons
olive oil
2/3 cup
Parmesan cheese, freshly grated, plus extra to serve
2
eggs, lightly beaten
1 1/2-2 cups
bread crumbs
7 ounces
Fresh Pasta Dough
1/4 cup
buffer
8
fresh sage leaves
Salt and pepper
Serves 4
This and many other wonderful recipes may be found in
The Silver Spoon
from Chronicle Books


Tortelli Di Zucca
Preheat the oven to 350°F. Put the pumpkin in a roasting pan, drizzle with the oil, cover with foil and bake for about 1 hour. Pass the pumpkin through a food mill into a bowl, add the Parmesan and eggs and season with salt and pepper. Stir in enough bread crumbs to make a fairly firm mixture. Roll out the pasta dough into a sheet and stamp out 3-inch rounds with a cookie cutter. Spoon a little of the pumpkin filling into the center of each round, fold in half and crimp the edges. Cook the tortelli in a large pan of salted, boiling water for 10 minutes. Meanwhile, melt the butter in a skillet, add the sage and cook for a few minutes. Drain the tortelli, place in a warm serving dish and sprinkle with the sage butter and extra Parmesan.