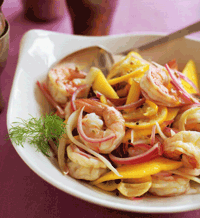 Ingredients:
1
red onion, thinly sliced
1
fennel bulb, halved and thinly sliced (trimmings saved)
2
lemons, washed and very thinly sliced
1
tablespoon salt
1
pound large shrimp (13 to 15 per pound), peeled and deveined, with tails left on
1
mango, sliced into thin half-moons
1 cup
extra virgin olive oil
1/2 cup
fresh lemon juice
1/4 cup
rice wine vinegar
6
cloves garlic, peeled and crushed
1 teaspoon
fennel seeds
1 tablespoon
black peppercorns
1 tablespoon
coriander seeds, lightly cracked (see Note)
1/2 teaspoon
kosher or sea salt
Serves 4 to 6
This and many other wonderful recipes may be found in
Kitchen Playdates
by Lauren Bank Deen from Chronicle Books


There's something about mango and shrimp that is just so good, so cheerful, and, well, so right. Pickling the shrimp, and adding fennel slivers give this dish a fresh take on shrimp with mango salsa. If you like, buy precooked shrimp and throw it all together the night before to let the flavors get acquainted. You can easily multiply this recipe. It looks gorgeous in a big trifle bowl or individual martini glasses if you are making a single batch.
Combine the onion, fennel trimmings, and half the sliced lemons in a large pot filled with cold water. Bring to a boil, lower the heat, and simmer for 15 minutes. Add the salt and shrimp. Remove from the heat and allow the shrimp to cook until they just turn pink and begin to curl, about 45 seconds to 1 minute. Drain, and let shrimp cool.
Combine all the remaining ingredients in a large bowl, add the shrimp, cover, and refrigerate overnight. Toss with the kosher or sea salt before serving.
Note: To crack the coriander seeds, place in a plastic bag and roll or whack lightly with a rolling pin or the back of a pan.
Kids in the kitchen: Younger ones can help measure the ingredients, crack coriander seeds, and serve. Older kids can peel and devein the shrimp under supervision. Cookware shops sell shrimp deveiners that kids can use instead of more dangerous paring knives.