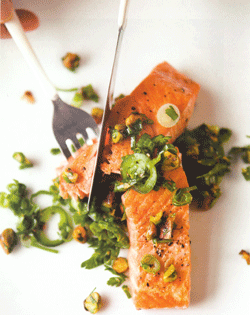 Ingredients::
3/4 cup
thinly sliced spring onion or sweet onion, such as Vidalia or Walla Walla
1
small jalapeño, stemmed, seeded, and thinly sliced
1 cup
combination chopped fresh herbs, such as cilantro, mint, and flat-leaf parsley
1/2 cup
lightly toasted and chopped pistachios or walnuts
3 tablespoons
extra-virgin olive oil
Finely grated zest and juice of 1 lemon (preferably Meyer lemon)
4
(6-ounce) salmon fillets, pinbones removed (preferably skin-on)
Sea salt and freshly ground black pepper
1 tablespoon
unsalted butter
Lemon wedges, for serving
This and many other wonderful recipes may be found in
A Mouthful of Stars: A Constellation of Favorite Recipes from My World Travels by Kim Sunée
Salmon is abundant in Scandinavia, but one can only eat so much of the gravad lax-cured salmon - found in every home kitchen as well as on restaurant menus. This is one of my favorite ways to give a touch of color and flavor to the ubiquitous fish and boiled dill potatoes. It's such a pretty dish with the rosy salmon and green pistachios and herbs, but almost any fish would pair well with this flavorful gremolata. A fragrant bowl of basmati or jasmine rice would make a fine complement.
1. Combine the onion, jalapeño, herbs, pistachios, 2 1/2 tablespoons of the olive oil, and the lemon zest and juice in a medium bowl.
2. Pat the salmon fillets dry with a paper towel and season both sides with salt and pepper. Melt the butter and the remaining 1/2 tablespoon olive oil together in a large heavy skillet over medium-high heat until the butter begins to froth. Place the salmon, skin side down, in the skillet and cook without moving for 5 minutes. Decrease the heat if too hot. Check the skin and, if crispy, turn gently to the other side and let cook for another minute for medium-rare or until cooked to desired doneness. Top with the gremolata and serve with lemon wedges.