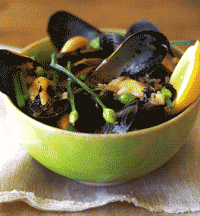 Ingredients:
2 tablespoons canola oil
1 teaspoon finely chopped garlic
1 tablespoon peeled and finely chopped fresh ginger
2 tablespoons finely chopped shallots
2 tablespoons fermented black beans, chopped
1 cup chicken broth
2 tablespoons Shaoxing wine
1 tablespoon soy sauce
1/2 teaspoon sugar
2 pounds mussels, cleaned (see recipe introduction)
1 cup chopped flowering garlic chives (1-inch pieces)
4 lemon wedges

Black mussels are readily available in the Bay Area where I live - and cheap at that - but clams also work fine for this dish. It's best to use bivalves the day you purchase them, but if you must store them, keep them refrigerated in a bowl with a damp cloth over them for no longer than a day. Wait to prepare the mussels until you're ready to cook. To clean them, don't submerge them in water - instead just scrub and rinse each one well to remove any grit. Get rid of any with cracked shells. If you find one gaping open, hold it closed for a second with your fingers. If it won't stay closed, it's likely dead and should be discarded. Some mussels have beards, which look like little "hairs" sticking out the end. To remove them, grip on with your fingers or a dish towel and give a yank. Serve the mussels with crusty bread for sopping up the sauce.
In a large wok or pot over medium-high heat, heat the oil. Add the garlic, ginger, shallots, and black beans and cook, stirring, for 1 minute until the shallots are translucent. Add the chicken broth, wine, soy sauce, and sugar and bring to a boil. Add the mussels, reduce the heat to a simmer, cover, and cook for 3 to 4 minutes, or until the mussels have opened. Add the chives, toss to incorporate, cover, and cook for 30 seconds more to cook the chives.
Using tongs, transfer the mussels to bowls, discarding any that failed to open. Ladle a bit of the broth into each bowl. Accompany each serving with a wedge of lemon.
This and many other wonderful recipes may be found in
Sara Deseran's's
asianvegetables
from Chronicle Books