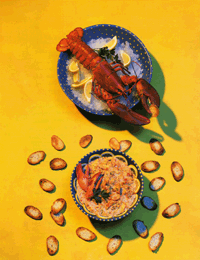 Ingredients:
4 tablespoons
unsalted butter
1
shallot, minced
2 tablespoons
flour
2 tablespoons
dry sherry
2 tabIespoons
dry white wine
1 cup
chicken stock

2 cups

cooked fresh lobster meat, cut into 1/2-inch pieces, and picked over for shells and cartilage




2/3 cup

grated parmigiano-reggiano cheese




2 tablespoons

fresh parsley leaves, minced




1 cup

heavy cream




1 teaspoon

dijon mustard




Sea salt and white pepper, to taste




2 tablespoons

sliced black olives, for garnish




This and many other wonderful recipes may be found in

Chips and Dips

by Claudia McQuillan from Chronicle Books


From the time I was a small child, the family joke was that if I was in a foul temper, the only cure was lobster thermidor. I've never lost my love for it, but these days I prefer to serve it as a hot dip rather than an entree. It's wonderful cocktail fare for special celebrations, or the perfect indulgence when you feel the need for something rich and sinful. Serve it with toast points.
Preheat the broiler. In a nonreactive, melt the butter over medium heat; add the minced shallot and sauté for 1 minute. Whisk in the flour, then add the sherry, white wine, and chicken stock. Cook for 4 minutes, stirring constantly. Stir in the lobster meat, 1/2 cup of the Parmigiano-Reggiano, parsley, cream, and mustard. Cook for 2 minutes, stirring often. Taste, and season with salt and white pepper.
Pour the lobster mixture into a shallow baking dish. Sprinkle the remaining Parmigiano-Reggiano over the dip, and broil for 1 minute, or until the cheese is lightly browned. Transfer the dip to a chafing dish. Garnish with sliced black olives.