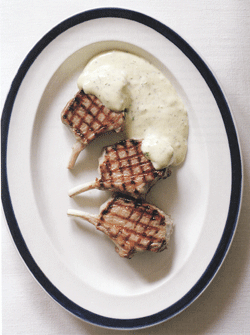 Ingredients:
3 tbsp
white wine vinegar
3 tbsp
water
1
small shallot, finely chopped leaves from a small bunch of mint
3
egg yolks
2
sticks unsalted butter, melted
salt and freshly ground white pepper
a touch
of lemon juice
1
rack of lamb, French-trimmed; that is, bones scraped clean and excess fat removed
salt and pepper
a little oil
Serves 4
This and many other wonderful recipes may be found in Simon Hopkinson's
The Good Cook
I first made this lovely sauce when working in west Wales in the early 1970s. We had been making its cousin, bearnaise sauce, for as long as we could remember and wanted to ring the changes. After much exhaustive book reading, we finally came across something known as "sauce paloise." Heaven knows its origins, or in which cookbook we found it, but it seemed a must to serve with the delicious local Welsh lamb from the butcher in St David's, I have chosen to simply call it "minted hollandaise," rather than "sauce paloise" (or "mint bearnaise," because of the essential tarragon in that sauce), mainly because it won't mean anything to anyone; well, maybe to a few dedicated sauce aficionados, but not in the general lexicon of culinary lotions.
First make the sauce. Put the vinegar, water, the shallot and two-thirds of the mint leaves, chopped, into a small, stainless steel pan. Reduce over a moderate heat until syrupy. Strain this mixture through a fine sieve into the bowl of a small food processor. Add the egg yolks, switch on and process until airy and pale. Heat the butter until quite hot and bubbling (use a small pan with a lip, to aid pouring), then, with the motor running, slowly pour in the butter until the sauce has become thick, as with making mayonnaise; you may like to add a touch of the milky residue underneath the clear butter, as this processor method usually makes a thicker than usual sauce. Season lightly and add the remaining mint leaves. Briefly process once more, until the machine has chopped the leaves finely into the sauce. Squeeze in a touch of lemon juice, to taste. Pour into a sauceboat and keep warm.
Cut the rack of lamb into 6 cutlets, if small, and usually 8, if large. Lightly season them and brush with oil. Using a ribbed, stove-top grill (or a heavy, solid-based frying pan) on a high heat, grill the cutlets on each side for 2-3 minutes (medium-rare), 3-4 minutes (medium), and for about 5 minutes if you wish them to be medium-well to well done. Leave to rest for a few minutes before serving with the sauce. And chips—whichever way you like to make them—would be the perfect accompaniment.