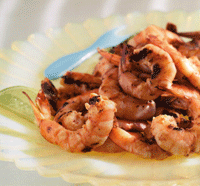 Ingredients:
About 1 pound
large shrimp, peeled and deveined
2 tablespoons
soy sauce
1 tablespoon
rice wine
2
cloves garlic, minced
One
1-inch piece ginger, minced
Juice from 1/2 lime
1 teaspoon
Korean chile powder
This and many other wonderful recipes may be found in Cecilia Hia-Jin Lee's
Quick & Easy Korean Cooking


Koreans usually eat shrimp plain, grilled, or lightly salted. I've taken the basic idea and added some spice to take the shrimp to the next level. If you're using frozen shrimp, make sure they've been defrosted and drained before marinating.
Put the shrimp in a large bowl. Add the soy sauce, rice wine, garlic, ginger, and lime juice and combine. Sprinkle with the chile powder and toss.
Place a grill basket or aluminum pan (or a piece of heavy-duty aluminum foil) on a preheated grill. Add the shrimp and cook, turning, until they've turned pink
Serve hot with rice and other side dishes.
Makes 4 to 6 servings.