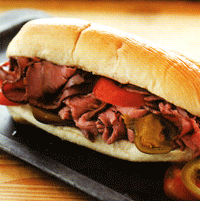 Meat Rub:
1 teaspoon
dried onion pieces
1 teaspoon
dried basil
1 teaspoon
dried marjoram
1/2 teaspoon
garlic powder
1/4 teaspoon
salt
1/4 teaspoon
black pepper
1 (2 to 2 1/2-pound) rib eye, bottom round, or eye of round roast

1 tablespoon olive oil
1 large red bell pepper, cut into strips
1 large green bell pepper, cut into strips
1 beef bouillon cube, dissolved in 1 cup water
6 sub rolls, sliced open
A few spoonfuls giardiniera
Sliced hot peppers

Makes 6
This and many other wonderful recipes may be found in
The Encyclopedia of Sandwiches
by Susan Russo from Quirk Books


Juicy seasoned beef and peppers on a fresh sub roll
An Italian Beef is constructed with a long sub roll split down the middle and packed with slices of seasoned cooked beef and topped with giardiniera (an Italian relish of pickled vegetables) or Italian sweet peppers and beef juices.
Despite its name, this sandwich originated not in Italy but in Chicago, Illinois. Al's No. 1 Italian Beef opened its first stand in 1938, offering diners an inexpepsive, hearty sandwich. Soon similar stands began popping up all over the city, while home cooks made huge batches of the stuff for large Italian weddings, funerals, and parties. Like a French Dip, the Italian Beef is dipped in the meat's juices until the bread is wet. When ordering one, you can usually request the degree, from "wet" (just moist) to "soaked" (soggy). Most Chicago Italian beef stands also offer a "combo," which includes smoked Italian sausage along with the beef.
Position a rack in center of oven and preheat to 350°F. In a small bowl, combine rub ingredients. Rub mixture all over meat. Place meat in a shallow roasting pan and cook 80 to 90 minutes, or until a meat thermometer reads 140°F for medium-rare or 150°F for medium.
Meanwhile, add olive oil to a large skillet over medium-high heat. Add peppers and sauté 7 to 10 minutes, or until tender and starting to brown. Set aside.
Remove pan from oven. Pour dissolved bouillon in pan. Tent pan with tinfoil and let rest 20 minutes. Transfer meat to a carving board and slice as thinly as possible. Quickly bathe each slice in au jus and place it onto a roll. Garnish each sandwich with some sautéed peppers, a spoonful of giardiniera, and a few hot pepper slices. Drizzle with a bit more au jus. Serve immediately.