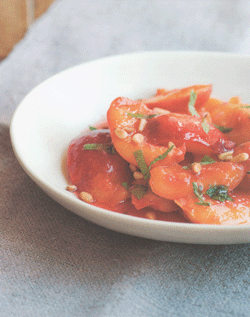 Ingredients:
3/4 cup
dry rosé or white wine
Juice of 3 limes
1/4 cup
honey
1
shallot, minced
12
nectarines, pitted and quartered
3 tablespoons
chopped fresh mint
3 tablespoons
pine nuts, toasted
Makes 6 side-dish servings
This and many other wonderful recipes may be found in
Michael Symon's Carnivore: 120 Recipes for Meat Lovers
I love eating ripe stone fruit like peaches and nectarines fresh from the farmer's market. But something truly special happens when the fruit is heated. To me, this sauce screams summer, especially with the last-minute addition of fresh mint. It's great with grilled meats but also spooned over vanilla bean ice cream!
1. Bring the wine, lime juice, honey, and shallot to a simmer in a small non-reactive saucepan over medium heat. Add the nectarines and cook until the mixture is syrupy, about 20 minutes.
2. Gently stir in the mint and pine nuts. Serve hot or at room temperature.