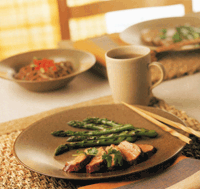 Ingredients:
2
pork tenderloins (about 2 pounds total)
1/3 cup
hoisin sauce (see Cook's Notes)
1 tablespoon
dry sherry
Freshly ground black pepper, to taste
This and many other wonderful recipes may be found in
The Basic Gourmet Entertains
by Morgan, Taggert, and Taggert from Chronicle Books


This is one of the easiest to prepare, and classiest cuts of meat that you can serve your honored guests. Pork tenderloin is like beef tenderloin - exceedingly tender and full of flavor. Sold two per bag in most markets, pork tenderloins are about 1 pound each and can be dressed up with a fancy sauce or served straight off the grill proudly unsauced, as we do here.
Tenderloins are partially covered by a very thin membrane of gristle, called silverskin, which needs to be removed. Dry tenderloins with a paper towel. Use a sharp boning knife or pointed 4-inch paring knife to remove silverskin. Hold knife horizontally with edge of blade facing small end of meat and slip it under silverskin. Keep blade angled just slightly toward gristle, rather than meat, and cut through toward "tail" of tenderloin, which will lift a flap of gristle. Hold on to flap, reverse position of knife, and use it to peel away gristle toward large end of tenderloin. Repeat to peel all gristle from meat surface, always keeping knife angled slightly toward silverskin to avoid wasting meat.
In a small mixing bowl, combine hoisin sauce, sherry, and a few grinds black pepper. Coat tenderloins with sauce. Set aside on a plate or platter. Prepare a charcoal fire or preheat a gas grill . When the fire is medium-hot, place tenderloins on grill rack. Cover grill, and cook, turning once, until an instantread thermometer registers 150°F when inserted in thickest part of meat, about 12 minutes. Hold tenderloins in a warm, not hot, oven while you grill asparagus. Cut tenderloins diagonally in slices about 1/4 inch, arrange on plates, and serve at once.