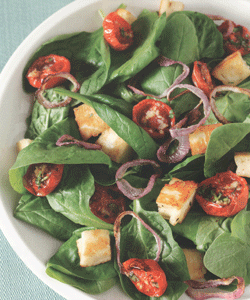 FRITTATA:
6-8 ounces
halloumi cheese, cut into 1-inch cubes
1 pint
cherry tomatoes, halved
1/2
small red onion, thinly sliced
5 ounces
baby spinach
Juice of 1 lemon
Salt and pepper to taste
This and many other wonderful recipes may be found in Ann Natalia Rose & Doris Choi's
The Fresh Energy Cookbook: Detox Recipes to Supercharge Your Life
I am fascinated with croutons that are not bread-based. I love finding these perfectly sized crunchy or chewy bites as I make my way through a salad. Halloumi is a widely popular Cypriot cheese that is firm enough to withstand grilling and makes for a warm, delicious, golden "crouton." Just don't overcook it, or it will become hard and crispy.
Preheat the oven to 375°F. On a parchment-lined baking tray, place the cheese in a single layer. On a separate tray, place the tomatoes skin side down. Bake both trays for 15-20 minutes until the cheese is a light golden brown, turning the "croutons" occasionally to brown them evenly on all sides, and the tomatoes are slightly wilted. In a large bowl, combine the rest of the ingredients. Add the cheese and tomatoes and serve.
Serves 4