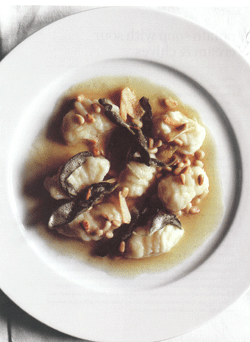 Ingredients:
7 tbsp
butter
2-3/span>

cloves of garlic, peeled and sliced
1 tbsp/span>

pine nuts
about 20 /span>

sage leaves




freshly ground black pepper




2-3 tbsp freshly grated Parmesan




For the gnocchi:

1 1/4 pounds

potatoes, not too floury (see below), unpeeled




1

egg, beaten




1 1/2 cups

all-purpose flour, plus a little more for rolling only if necessary




1/2 tsp

salt




This and many other wonderful recipes may be found in Simon Hopkinson's

The Good Cook
The finest gnocchi I have ever eaten were those made by Toni Vianeiio, when he was cooking at his place in Paris, L'Osteria, in Le Marais. As far as I understand, he is no longer there, but I hope that the gnocchi remain as good, whoever is cooking there now, Toni once allowed me to watch them being made, but I have never been able to achieve their exquisite lightness and almost fudgy interior.
The amount of flour given here is a maximum amount, so don't use all of it if you feel that the texture needs no more; practice and experience makes for perfect gnocchi. I still have trouble from time to time, which is mainly due, I believe, to the age, variety and texture of the potatoes. I have a vague memory of Toni using large Belle de Fontenay potatoes, and storing them in a cool, dark place for some time before use, so that they dried out somewhat-which makes sense: excess moisture is the enemy of fine gnocchi.
Steam (or simmer) the potatoes in their skins until tender. Once cool enough to handle, peel them and then directly put through a potato ricer or vegetable mill on to a lightly floured kitchen surface. Allow to cool, then loosely gather the potato together and make a well in the middle with your fingers. Drop in the egg and sift over the flour with the salt. Now gently bring everything together using your hands and knead deftly to a soft dough. At this stage you may need a little more flour, both on the surface and in the mixture. The correct consistency should be similar to soft pastry.
Now roll the dough into long sausage shapes about 2.5cm in diameter, and cut into 2cm pieces. Dust lightly with sifted flour and put on a tray. Refrigerate for 30 minutes, then begin to shape them. Take a fork and, holding it in the left hand, prongs pointing uppermost, pick up one of the pieces of dough. Using your thumb, push the dough down the prongs to make a ridged surface, while simultaneously nicking each piece (a gnocchi) off the tines on to the work surface; this will also form a depression on the other side from your thumb. Once the gnocchi are formed, return them to the floured tray.
Bring a large pan of unsalted water to the boil and drop in about a third of the gnocchi. Simmer until they float to the surface, then give them a further 20-30 seconds. Lift out with a slotted spoon, drain well and place in a heated dish, together with a scrap of butter. Keep warm, cooking the remaining gnocchi in 2 further batches.
Melt the butter with the garlic slices and pine nuts and cook until pale golden. Remove them to a plate, then add the sage leaves to the butter, allowing them to froth and crisp up. Return the garlic and pine nuts. Spoon this buttery mass over the gnocchi, grind over plenty of black pepper and dust with Parmesan. Serve without delay, on hot plates, handing extra Parmesan at table.