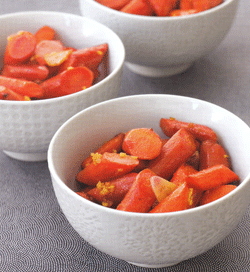 Ingredients:
1 1/2 tablespoons
honey
1 1/4 cups
water
2 teaspoons
rice vinegar
1/2 teaspoon
kosher salt, plus salt to taste
1 tablespoon
unsalted butter
1 1/2 pounds
carrots, sliced diagonally into 1-inch chunks
1 clove
garlic, thinly sliced
1 (2-inch) chunk
fresh ginger, peeled and grated on a Microplane or very finely minced
Freshly ground black pepper
Serves 8-10
This and many other wonderful recipes may be found in
Choosing Sides: From Holidays to Every Day, 130 Delicious Recipes to Make the Meal
by Tara Mataraza Desmond
Cooked carrots, like so many other throwback sides, too often suffer cooking abuse, jostling around in bland, boiling water until mushy soft. Scraped out into a seeping watery pile next to wrinkled green peas, an orange mound of homogenous carrot coins is a sad site. But this preparation does right by the sweet, earthy root, coaxing its sugars with a quick saute and then cloaking the cuts in a sweet and spicy simmer sauce. Fresh ginger packs a punch that heat seekers will love.
Whisk the honey, water, vinegar, and salt together in a small mixing bowl and set aside.
Heat the butter in a medium deep saute pan or a medium saucepan over medium-high heat. Add the carrots and saute for 5 minutes, until they start to release some water and the outsides become just slightly tender. Add the garlic and ginger and saute for 30 seconds.
Pour the liquid over the carrots and bring it to a boil. Cover the pan and decrease the heat to medium-low to simmer for 5 minutes, until the carrots are mostly tender when pierced with a knife. Remove the lid, return the heat to medium-high, and boil the liquid and carrots 10 to 12 minutes, stirring once or twice, until the liquid is nearly gone. Season to taste with more salt and the pepper as needed. Serve immediately.