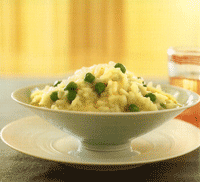 Ingredients:
1 TABLESPOON BUTTER
1 TABLESPOON OLIVE OIL
3 TO 4 LARGE GARLIC CLOVES, PRESSED
1 CUP ARBORIO RICE
1 1/2 CUP EXTRA-DRY VERMOUTH
4 CUPSCHICKEN BROTH, HEATED TO SIMMERING
1/2 CUP FRESH OR THAWED FROZEN BABY PEAS
1/4 CUP GRATED PARMESAN CHEESE
COARSE SALT, PREFERABLY KOSHER, AND FRESHLY GROUND PEPPER
TRUFFLE OIL FOR DRIZZLING (OR, IF UNAVAILABLE, VERY FRUITY OLIVE OIL)
Give me a little time, a glass of wine, and not too many ingredients, and I'll fix risotto. Homey, hearty, and satisfying, it makes an ideal entree or side dish. This rendition mal(es a terrific informal supper with a simple green salad and a glass of smooth-bodied Italian Soave Classico. Garlic perfumes the entire dish, while the vermouth adds depth, the peas add color, taste, and texture, and the truffle oil - well, it's simply mesmerizing. + There's really no secret to great risotto, just a few self-evident truths: Use Italian Arborio rice, don't add too much liquid at one time (and not until the previous liquid has been nearly absorbed), and enjoy the simple act of stirring. You'll he rewarded.
In a medium-heavy skillet, melt the butter in the olive oil over medium heat. Add the garlic and sautè until fragrant, 1 to 2 minutes. Add the rice and continue to stir until the kernels are translucent and you can see the "eye" at the tip of the kernel. Do not let the rice or garlic brown.
Add the vermouth to the rice mixture, stirring the rice away from the bottom and sides of the pan until the liquid is nearly absorbed. Add the hot broth, 1/2 Cup at a time, stirring constantly after each addition, until the liquid is nearly absorbed. Taste after 15 minutes to determine if the rice is firm to the bite. Stir in the peas and continue to add the hot broth, 1/2 cup at a time. Taste again after 5 minutes. The rice should be just tender to the bite.
Remove from the heat, stir in the cheese, and season with salt and pepper to taste. Mound the risotto into warmed shallow bowls, drizzle with truffle oil, and serve steaming hot. Alternatively, pass the truffle oil at the table.
This and many other wonderful recipes may be found in
Sara Perry's Everything Tastes Better with Garlic
from Chronicle Books