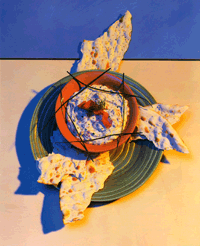 Ingredients:
1 pound
whipped cream cheese
1/3 cup
whipping cream
10 ounces
smoked salmon, minced
1 bunch
fresh dill, stemmed and minced
1 tablespoon
minced fresh chives
Juice of 1/2 lemon
1/4 teasoon
hot pepper sauce
Cracked black pepper, to taste
Makes 3 cups
This and many other wonderful recipes may be found in
Chips and Dips
by Claudia McQuillan from Chronicle Books


I've yet to meet anyone who doesn't succumb to stress during the holidays. With the best of intentions, people plan parties, then find they've run out of time to prepare everything on their menu. I always tell friends, in all sincerity, to call if they need me to bring something. Inevitably, on a day I don't have a spare minute, the host will call and ask me to bring on appetizer. Should you find yourself in such a predicament, this dip is the perfect solution. The ingredients are readily available, the dip takes only minutes to prepare, and the results are always a crowd pleaser. Serve with thin slices of pumpernickel bread or water crackers.
In a large mixing bowl, combine the cream cheese and cream. With an electric mixer, whip the mixture until light and fluffy. Fold in the smoked salmon, dill, and chives. Season with lemon juice, hot pepper sauce, and black pepper.