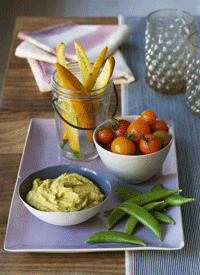 Ingredients:
One 15-ounce can
garbanzo beans (chickpeas), drained
1 to 2
garlic cloves, minced
1
small dried red chile pepper, crumbled
Juice of 1 to 2 medium lemons
1/2 teaspoon
ground cumin
1 1/2 teaspoons
curry powder
6 to 7 tablespoons
olive oil
Salt and freshly ground pepper
Makes about 1 1/4 cups
This and many other wonderful recipes may be found in
Pestos, Tapenades, and Spreads
by Stacey Printz from Chronicle Books


In traditional hummus, we expect a mix of chickpeas, garlic, and olive oil. This recipe is a great alternative with the smoky-sweet flavors of curry and cumin. Adjust the amounts of lemon, garlic, and oil to suit your taste. The dried chile adds kick, so feel free to omit it, or turn it up a notch by adding more!
Place the chickpeas, garlic, chile, lemon juice, cumin, and curry powder in the bowl of a food processor and blend until the mixture begins to bind together. With the machine running, gradually stream in the oil and blend until the oil is incorporated and the spread is almost smooth. Season with salt and pepper.
Serving suggestions:
-Serve with baked pita crisps or crudités.
-Dollop over grilled vegetables.
-Spread in fresh pita pockets and add your favorite vegetables for a great sandwich.