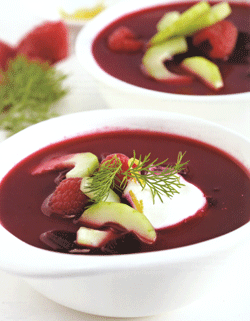 Ingredients:
6
medium beets, trimmed
1 pound
fresh or frozen raspberries, plus
2 cups
pristine fresh raspberries
4
allspice berries
2
whole cloves
2 tablespoons
sugar
2 teaspoons
kosher salt
Juice and finely grated zest of 2 lemons
1
large cucumber, ends trimmed, halved lengthwise, seeds removed, and finely chopped
1/2 cup
sour cream
4
fresh baby dill fronds, torn into small pieces
Serves 4
This and many other wonderful recipes may be found in Editors of Nick Zukin's
The Artisan Jewish Deli at Home
This borscht variation exemplifies the melding of tradition and seasonality. The raspberries add a fruity roundness to the soup's usual sweet-tart flavor. When they are available-typically peak summer in the Pacific Northwest - substitute supersized loganberries, tayberries, or any red cane berry in place of the raspberries.
Peel and coarsely grate 2 of the beets. Add them, along with 8 cups water and 1/2 pound of the fresh or frozen raspberries, to a large pot set over medium-high heat. Bring to a boil, and then stir in the allspice, cloves, sugar, and salt. Decrease the heat to low, and simmer, covered, for 30 minutes. Remove from the heat and set aside, uncovered, to cool until still warm to the touch, about 30 minutes.
Add the remaining 1/2 pound fresh or frozen raspberries to the pot. Working in batches, puree the soup in a blender, being sure to include some of the solids along with plenty of liquid in each batch. Pour through a fine-mesh strainer set over a bowl. Discard the solids and transfer the soup to a container with a tight-fitting lid. Stir in the lemon juice. Refrigerate until cold, about 4 hours. (The soup can be made up to this point and refrigerated up to 2 days.) While the soup is chilling, place the 4 remaining beets in a medium saucepan and add enough water to cover the beets by 2 inches. Put the pot over medium heat and slowly bring to a boil. Turn the heat to low and simmer until the point of a knife easily pierces the beets, about 1 hour. Drain off the hot water and run cold water over the beets until they are cool enough to handle. Peel the beets, and then thinly slice and chop them into bite-size pieces. Transfer to a covered container and refrigerate until ready to serve.
When ready to serve, ladle the soup into 4 chilled soup bowls. Evenly distribute the chopped beets, cucumber, and pristine whole raspberries over the top. Garnish each bowl with a large dollop of sour cream, a little lemon zest, and the fresh dill. Serve immediately.