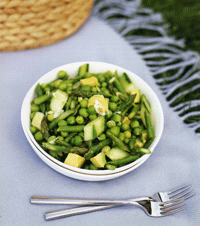 Ingredients:
2 1/2 tablespoons
freshly squeezed lemon juice
2 tablespoons
olive oil
1
clove garlic, crushed
Kosher salt
Freshly ground black pepper
1 pound
asparagus
1 cup
fresh or frozen peas
1/2
English cucumber, unpeeled, quartered lengthwise and sliced
3
green onions, white part only, cut into thin slices
1
ripe, slightly firm avocado, peeled, pitted, and cut into 1-inch dice (optional)
This and many other wonderful recipes may be found in Karen Bussen's
Simple Stunning Parties at Home


What better way to celebrate the spring than with this salad made with the best pick of the season, in every shade of green? Although the avocado can be left out entirely, if using, make sure to bring it to the picnic whole, cutting and tossing it with the salad at the last minute to keep it from turning brown and mushy. If it's going to be over an hour before you serve the salad, it's best to pack the dressing separately as well and dress the salad on location; this will keep it bright and green.
In a small jar with a lid, combine the lemon juice, olive oil, and
garlic
. Shake well and season with salt and pepper. Set aside.
Snap the tough bottoms off of the asparagus where they break naturally, then trim and slice the asparagus on a diagonal into 1-inch pieces. Blanch in a medium pot of lightly salted boiling water for 1 1/2 minutes. Use a strainer to remove and run the asparagus under cold water to stop the cooking. Set aside.
Using the same boiling water, blanch the peas for about 30 seconds if fresh and 10 seconds if frozen. Drain, run under cold water, and set aside. In a portable container or serving bowl, combine the asparagus, peas, cucumber, onions, and if serving immediately, the avocado (if using). Reshake the dressing and toss gently with the salad. Season with salt and pepper and serve.
Serves 6 to 8