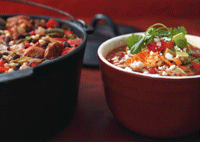 Ingredients:
1/2 cup
olive or vegetable oil, divided
1 1/2 pounds
boneless, skinless chicken thighs, cut in 1-inch cubes
2 to 3 tablespoons
chili powder
1 tablespoon
cumin seeds
2 cups
diced yellow onions
1 cup
seeded, diced poblano chiles
1
red bell pepper, diced
3
canned chipotle chiles in adobo sauce, minced
1/4 cup
minced garlic (4 to 6 cloves)
1 can (14 1/2 ounces)
black beans
1 can (15 ounces)
diced tomatoes
2
ears corn, kernels cut from the cobs
Salt
Freshly ground black peppe
1
ripe avocado, halved, pitted, and diced
1 cup
cherry tomatoes, quartered
1/2
red onion, diced (about 1/2 cup)
1/2 bunch
fresh cilantro, minced
1/2 cup f
reshly squeezed lime juice (about 4 limes)
2
jalapeno chiles, seeded and minced
1/2 teaspoons
kosher salt
1/2 cup
crumbled Mexican cotija cheese
1/2 cup
grated mixed Cheddar and Monterey Jack cheeses
This and many other wonderful recipes may be found in Leslie Jonath and Frankie Frankeny's
Soup's On
from Chronicle Books


On a cold day nothing will warm you, your family, and your home better than a big pot of this killer chili! This Mexican-inspired recipe by Joey Airman, the Emmy Award-winning TV host of Bay Café, goes together fast. The recipe calls for chipotle chiles and Mexican cotija cheese, both of which are available in the Latin foods section of many grocery stores. Serve with warm cornbread or tortillas.
Heat 1/4 cup of the oil in a heavy-bottomed, 8-quart pot over medium heat. Add the chicken, chili powder, and
cumin
seeds and sauté until the chicken is cooked through, 4 to 6 minutes. Transfer the meat to a bowl and set aside.
Return the pot to the heat, add the remaining 1/4 cup of oil, and cook the onions, poblanos, bell pepper, chipotles, and garlic, stirring frequently, until the onions start to brown. Stir in the beans with their liquid, tomatoes, and corn and return the cooked chicken with all its juices. Turn the heat down to low and simmer, stirring every 5 minutes, until the chicken is cooked through and tender, about 25 minutes. Season with salt and pepper to taste.
In a large bowl, combine the avocado, tomatoes, onion, cilantro, lime juice, jalapenos, and salt. Set aside.
To serve, ladle the chili into bowls and top with the salsa and cheeses.