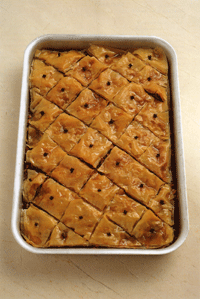 Ingredients:

1 1/2 cups

clarified butter, melted, plus extra for brushing




1 lb 2 oz

ready-made phyllo dough or Homemade phyllo dough


2 cups

almonds, coarsely chopped




2 cups

walnuts, coarsely chopped




2 teaspoons

ground cinnamon




1/2 teaspoon

ground cloves


cloves, to decorate (optional)

For the Syrup

3 cups superfine sugar
1/2 cup corn syrup or honey
grated zest of 1 lemon or 1 teaspoon vanilla extract
2 tablespoons brandy (optional)

This and many other wonderful recipes may be found in

Vefa's Kitchen

from Phaidon Press
Brush a baking pan exactly the same size as the sheets of phyllo with melted butter. Alternatively, cut the sheets of phyllo to fit your baking can and brush it with melted butter. Combine the nuts, cinnamon, and ayes in a bowl. Preheat the oven to 350°F. Lay 4 sheets of phyllo on the base of the prepared baking pan, brushing each with melted butter. Sprinkle some of the nut mixture evenly over them. Continue layering the sheets of phyllo, 1 at a time and brushing each with melted butter, and sprinkling with some of the nut mixture until all of it has been used and only 4 sheets of phyllo remain. (If it has been necessary to trim the phyllo, brush the trimmings with melted butter and place between the layers.) Top with the remaining sheets of phyllo, brushing each one with melted butter. Score the top layers with a sharp Knife into small diamond-shaped or triangular pieces. Stick a clove in the (enter of each piece, if you like. Brush with the remaining melted butter and sprinkle lightly with warm water to prevent the phyllo from curling. Bake for 30-40 minutes, or until golden brown. Meanwhile, make the syrup. Put the sugar, corn syrup or honey, and lemon zest, if using, into small pan, pour in 2 cups water, and bring to a boil, stirring constantly until the sugar has dissolved. Simmer, without stirring, for 5 minutes. Stir in the lemon zest or vanilla, if using, and brandy, if using, and remove from the heat. Ladle the hot syrup carefully and evenly over the baklava as soon as you take it out of the oven. Let it absorb the syrup and cool completely. Baklava keeps, covered loosely with a cloth, at room temperature for 1-2 weeks.
Makes 30 pieces
Preparation time 1 1/2 hours
Cooking time 40 minutes