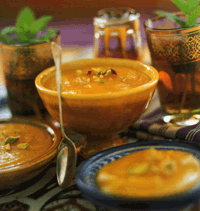 Ingredients:
3 cups (1 pound)
dried apricots
4 cups
water
1/2 cup
sugar, or to taste
2 tablespoons
cornstarch dissolved in 1/4 water
1 tablespoon
orange-flower water
Fresh lemon juice to taste
1 cup
heavy cream beaten with 2 tablespoons sugar
2 tablespoons
pistachio nuts, toasted and chopped
This and many other wonderful recipes may be found in
Saffron Shores
by Joyce Goldstein from Chronicle Books


This Lebanese pudding was traditionally prepared with sheets of dried apricot (amardine, or apricot leather), but it can also be made with dried apricots, which are more consistent in quality. Dried apricots may be sweet or quite tart, so you will have to adjust the sugar to suit your taste.
Soak the apricots in the water overnight. In a large saucepan, cook the apricots and water until very soft, about 30 minutes, adding more water if needed. In a blender or food processor, puree the mixture. Return the puree to the pan and bring to a simmer. Stir in the sugar and cornstarch mixture. Simmer, stirring occasionally, until thickened, about 3 minutes. Stir in the orange-flower water and lemon juice. Transfer to 6 individual serving bowls. Refrigerate.
For a dairy meal, at serving time beat the cream with the sugar. Place a dollop of cream on each pudding and top with the chopped pistachio nuts.