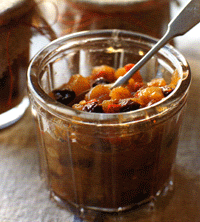 Ingredients:
6 Ounces
Fingerling Potatoes (see Note)
Salt
3 teaspoons
finely chopped fresh thyme
2 tablespoons
minced red onion
6 slices
smoked bacon, cooked crisp, drained, and chopped
1/4 cup
finely grated asiago cheese
1/4 cup
finely grated parmesan cheese
1/2 pound
(8 ounces) phyllo dough, thawed
1/2 cup (1 stick) unsalted butter, melted
Freshly ground black pepper
Makes 2 cups
This and many other wonderful recipes may be found in
Savory Baking
by Mary Cech from Chronicle Books


I like this slightly milder version of chutney, which can accompany a variety of savory biscuits, muffins, scones, crackers, or cookies.
Sir all the ingredients together in a large, heavy-gauge, wide-bottomed saucepan. Cover with a lid and bring the mixture to a boil over high heat; reduce the heat to medium and cook for 1 hour. During the cooking process, stir occasionally and check to see that the liquid has not evaporated completely. Add a little water if the mixture looks completely dry. Remove the
chutney
from the pan and let cool at room temperature. Serve at room temperature or chilled.
Note:
Store wrapped airtight in the refrigerator for up to 2 weeks. The chutney will become more flavorful as it sits.