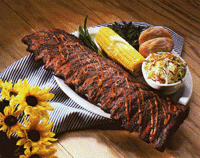 Ingredients:
1 cup ketchup
2/3 cup seasoned rice vinegar
1/2 cup apple juice or cider
1/4 cup apple cider vinegar
1/2 cup packed brown sugar
1/4 cup soy sauce or Worcestershire sauce
2 teaspoons prepared yellow mustard
3/4 teaspoon garlic powder
1/4 teaspoon ground white pepper
1/4 teaspoon cayenne
1/3 cup bacon bits, ground in a spice grinder
1/3 cup peeled and grated apple
1/3 cup grated onion
2 teaspoons grated green bell pepper


This and many other mouthwatering
recipes may be found in
Killer Ribs
by Nancy Davidson
from Chronicle Books
For proof that champions are made, not born, you have only to look to Mike Mills and his Apple City Barbecue team. No one, not even Mills himself, expected a Yankee from Murphysboro, Illinois, to win the grand prize at the Memphis in May World Championship Barbecue Contest the first time he entered in 1990. But this win was no fluke; he went on to win a total of four World Championships and three Grand World Championships, a record that remains unbroken. The journey to Las Vegas began when a gentleman who had relocated there from Memphis was frustrated by the lack of good barbecue. He went in search of the best barbecue, and found Mike Mills. They started in 1994 with one eatery out by the air force base in Las Vegas and now ten years later there are four restaurants in Las Vegas.
The ribs are made the same way in Vegas as in Mills's other restaurants in Illinois, in a Southern Pride smoker over the mildly flavored apple wood that is plentiful in Murphysboro. But as in many cities new to 'cue, the food needed a little explaining. The menu now makes it clear that the pink layer on the meat is a "rosy cast" - not a sign that it's undercooked, but that it's been smoked on indirect heat in the pit.
The sauce is a family recipe, first created by Mike Mills's maternal grandmother. When he opened his debut restaurant, 17th Street, his mother, Faye, used to make this sauce by the gallon for the restaurant.
Combine all ingredients, from the ketchup through the bacon bits, in a large saucepan, and then stir in the apple, onion, and bell pepper. Reduce heat and simmer uncovered for 10 to 15 minutes, or until the sauce thickens slightly, stirring frequently. Allow to cool, then pour it into sterilized glass bottles. The sauce will keep in refrigerator for up to 2 weeks and will flavor 2 racks of ribs.
General Cookin' Tip:
Place the ribs on your grill or smoker bone-side down. If at all possible, you want to leave them this way for their entire smoking time. You can achieve this by maintaining an even, constant temperature of between 225 and 250 degrees, whether you're using direct or indirect heat. If you must turn the ribs, do so as few times as possible to prevent the meat from drying out.