My first encounter with yerba mate was a less than auspicious one. In fact, if you'd told me then that one day I'd be drinking copious amounts of the stuff I surely would have scoffed.

This not so momentous introduction came when my wife and I attended a craft show, food show, touchy-feely new age expo or something like that - the details escape me now. Whatever the occasion, we found ourselves approaching a booth where an enthusiastic young fellow was stuffing tea bags into water bottles, shaking vigorously and offering them to a less than enthusiastic public.

Since the price was right I figured I'd give it a whirl, whatever "it" was. A few sips later and I could see why the poor guy was giving the stuff away. For, if the truth be told, yerba mate is an acquired taste and there are many who will probably never acquire it. I've heard many colorful turns of phrase used to describe this unique flavor, but the one I liked best was "a combination of lightly smoked wood, weak coffee and flavored hay." A mix of "green tea and coffee, with hints of tobacco and oak," was another favorite.

For some odd reason, though, I didn't give up on yerba mate. As a matter of fact, I grew rather fond of it as time passed, though it was probably a few years before I actually gave it another shot. Most of my sporadic yerba consumption during this time was tea bags from Guayaki, a San Luis Obispo California-based company whose yerba is probably the most accessible to the average American.

At this point in time, I wouldn't have described myself as a yerba mate lover. Sure, I liked the stuff, but I only drank once in a while and only bought it maybe a few times a year. Then I decided to write an article about yerba mate and Rooibos, an African herbal tea, for a local newspaper.

Thus far, all I really knew about yerba mate was what I'd read on the side of Guayaki's packages, so I started digging. I found out that yerba mate is very popular in South America, as popular - and perhaps more so - than coffee is here. Among the countries where they suck up huge quantities of the stuff are Paraguay, Brazil and Argentina, all countries yerba mate is indigenous to. Then there's Uruguay, where they drink it with a fervor (21 pounds per capita) that puts American java drinkers to shame.

Yerba mate, or Ilex paraguariensis, comes from an evergreen tree that grows up to 20 meters high in the wild, but when cultivated is usually between 4-8 meters. The caffeinated drink, which takes its name from a Spanish word for herb and the Quechua for cup, supposedly has numerous health benefits and has been popular in South America since ancient times. The Spanish wasted no time in adopting it and Charles Darwin mentioned it in his book, The Voyage of the Beagle. Jesuits cultivated it extensively in Paraguay, which led to it being called "Jesuits' tea" and "Paraguay tea," among other things.

South American yerba mate production is a multi-million dollar a year industry that employs hundreds of thousands of workers in Argentina, Brazil and Paraguay. There are hundreds of brands available in this part of the world and the preparation and drinking of the beverage is an intensely social ritual that can, in some cases, be every bit as complex and intricate as a Japanese tea ceremony.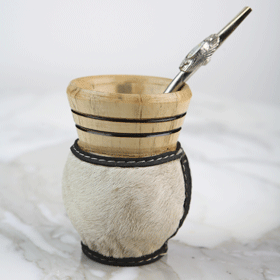 According to Andrea Segovia, a Uruguayan native and co-founder of Madison, Wisconsin-based yerba distributor Natural Latitudes, "yerba mate is more than a beverage when shared between two or more people. It is a ritual of friendship that can break the barriers of language and differences in culture. In essence, it creates and strengthens the bond of positive attitudes between people."
Nowadays yerba mate is enjoying something of a heyday in the United States. This is surely due, in no small part, to the general upswing in tea drinking. The U.S. tea market has jumped from $1 billion in 1993 to $5.1 billion in 2003 and is expected to hit $10 billion by 2010. As for yerba mate, in 1995, the U.S. market was confined mainly to South American expats living in big cities. They accounted for perhaps $400,000 in sales. By 2004, that number had increased to about $8 million.
London's Independent recently "discovered" yerba mate, as have many other media outlets, among them the Miami Herald and the New York Post. The Independent's January 2006 article hinted that it was "a weight-loss tea that's full of antioxidants." It also revealed that the drink is favored by the likes of Madonna, Hilary Clinton and Matt Dillon, though the reporter who penned the piece was clearly not impressed with it.
My conversion from casual to hardcore mate drinker came when the good people at Natural Latitudes encouraged me to try drinking it in the traditional way, in a gourd (mate) with the loose leaf brewed beverage sipped through a filter tipped metal straw (bombilla). I agreed to give it a shot, ordered a kilo of the stuff and Natural Latitudes were kind enough to provide a mate and bombilla.
Before long the goods arrived. I made ready to tuck in and quickly ground to a halt. A note that came with the shipment reminded me to cure my mate (gourd), which involved soaking it with infusions of salt and yerba mate for the next four days.
Having completed this task, I prepared my drink in the accepted manner, filling the mate about one half to three quarters full with loose leaf and adding the first infusion of hot water. Well, without going into too much detail let's just say that this didn't work so well, at least not for me. What I ended up with was pretty much yerba sludge that, given my sensitivity to caffeine, would probably have had me twittering around the room and dancing up the walls Singing in the Rain style.
So I devised a slightly less than traditional method, starting with two teaspoons of yerba for the day's first infusion, then leaving the leaves in place and adding another teaspoon for each successive infusion. With each new day I dumped the thick accumulation of leaves from the gourd, rinsed and started anew.
This was more like it, I decided, and proceeded to drink little else for the next week or two. I've calmed down a bit since then and gradually reintroduced some tea back into my beverage regimen. But I still find myself hitting the stuff pretty hard and even my wife, the lifelong javahead, has been known to set aside her smelly beans now and then in favor of a gourd or three.
A fella could get used to this stuff, you know. Bottoms up.