When the regional president of the International Food, Wine & Travel Writer's Association is put to the test by Internet connoisseurs, he sets out on a quest to locate Italy's oldest vineyard.

It began innocently enough. Like millions of others around the world I was busy "chatting" over the Internet. Participating in our on-line conversation was a young woman from Spain, a restaurant owner in Los Angeles, a chef from Hawaii, a U.S. Navy cook, and myself. A rather mixed bag one might say. On any street in any city of the world, we might pass each other, unknowingly, without a word. In cyber-space, however, there were two common elements that linked each of us: 1) our mutual use of computers and the Internet; 2) our shared love for fine cuisine.

"So," wrote Jim from Los Angeles, "you're an American?"

"Yes," I replied.

"And you've lived in Italy for 24 years?"

I thought for a minute, then typed, "Off-and-on, yes. I returned to Michigan for eleven months in 1978, and I make two or three trips back each year. Apart from that, this Mediterranean peninsula has been my home since 1973."

"Jason from Hawaii here."

"What's up, Jason?" I asked.

"I've always wondered something and maybe you know the answer."

"Shoot."

"What is the oldest vineyard still producing wine in Italy?"

It was not a difficult question. Nor one that required a long, exhausting answer. A simple "I don't know" would have sufficed. Instead, I typed: "That's one I am going to have to look into, Jason."

And thus began a year-long search for the wine of the Gods.

Traditionally, Italy is believed to have been settled by the peoples of Magna Grecia during the eighth century BC. According to accounts by the ancient historians Strabo and Dionysius of Halicarnassus, the city and acropolis of Cumae, which now lie in ruin along the Mediterranean shores west of Naples, became a center of great military and commercial importance to the early Greeks. These accounts held the key to my search, for it was the Greeks who first introduced many of the country's artistic and agricultural splendors. Unfortunately, rather than seeking an answer in history, I set out based on tradition - and traditionally, Italy's fame to wine stems from the word "Chianti" and the region of Tuscany.

In and around the area of Florence and Siena, there are hundreds of wines produced under the distinguished DOC Chianti Classico title. The vineyards of this zone make some of the world's highest-quality red wines. I set out along a path from Siena, north, to Castellina, where the famed Gallo Nero, or black rooster, label wines come to life. Next I ventured to Radda, and Ponte al Bozzone, and a variety of other surrounding towns.

Driving through the seemingly endless vineyards, I learned that the Chianti Classico region is noted not only for its red wine, but for rolling green hills, studded with old villages and towns - each boasting its own tale of historical wine production.


"Our vineyards are ancient," said a worker at the Vecchie Terre di Montefili estate, where such wines as Anfiteatro, Bruno di Rocco, and Chianti Classico are produced.

"How ancient?" I inquired.

"At least four-hundred-years."

In some countries, like the United States, that might qualify as ancient. But in Italy, with more than 2,000 years of history, that placed the vineyard somewhere in the middle of my list.

Before moving on, I ventured to several other wine estates, including La Massa, Castello d'Albola, Fattoria di Monte Vertine, and the Castello di Brolio farms of the Ricasoli family.

"In early times, Florence and Siena had a habit of sending their armies wine-shopping," explained Baron Francesco Ricasoli, in the company literature. "When they left, usually without paying properly, our living quarters, Castello di Brolio, were ready for a restoration job from scratch. So business was smashing, yet unprofitable. This period ended around 1500 - Nowadays, Ricasoli wines are as sought-after as then, and even more refined. Of course, we prefer selling them to giving them away."

While entertaining, the Renaissance establishment did not come close to topping the list of ancient vineyards.

A month later, during a trip to Turin, a friend suggested I visit the wine producers in Cuneo, 100 kilometers to the south. I arrived on the third Sunday of September, when the city was in the midst of its annual wine festival. Like a carnival show, Piazza Roma was a maze of stands, sounds, and agricultural products. Wine and olive oil were being tasted, along with fresh bread, and local cheeses and meats.

"This is our final day of festivities," a local merchant explained. "We began last week with a parade of tractors."

The wine of Roero, the most popular brand of the area, was excellent - and I helped myself to perhaps more free samples than I should have. As the day wore on I spoke with 10, 15, perhaps 20 wine producers. And while the time and festivities were joyful, I came away with several new 16th century establishments to add to my growing list.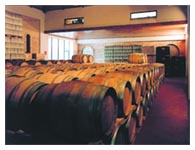 Passing to northeast Italy, in the region of Friuli Venecia Giulia, someone suggested I visit the Tenuta Ca' Bolani factory. A massive, rolling estate, this is but one of three vineyards owned by the Zonin family. Zonin is the most important private wine producer in Italy with 900 hectares of prime vineyards where prestigious grapes grow, 8 winemaking and bottling centers, and the largest staff of oenologists in Europe. According to one family member, "The making of quality wine is a special Italian art which has passionately been handed down through the generations of the Zonin family."

Unfortunately, for me, the tradition had only been passed since 1821. Two weeks later I found myself on Rome's famed Via Veneto, home of La Dolce Vitá, sipping white Soave Classico DOC with a publisher-friend.

"You've been looking too far north," she explained. The hill towns outside the capital are full of vineyards dating back to the early Romans."


By the time our conversation - and the bottle of wine had ended, she had set an appointment to visit the Pallavicini Estate, between Colonna and Frascati in the area south of Rome once known as Labicum. Legend has it that the Labici people originally came from Crete, fleeing from the Mycenean invasions.


Today the little town of Colonna stands on the site of the older town of Labicum Quintanense which in turn was built on the ruins of the ancient town of Labicum. Numerous archaeological finds, including Greek tablets, now in the Vatican Museum, and sculptures were excavated in this area. Among the statuary was a head of Bacchus, the ancient god of wine.


This, to me, seemed like an excellent lead. So less than 10 hours later, I was looking over the 74 hectares [183 acres] of the Pallavicini Estate, including 56 [138 acres] of which are vineyards.


"The vines which produce the white grapes are all grafted onto American rootstocks which are free from phylloxera," explained general manager Piergiorgio Caracciolo. "These are Trebbiano Toscano, Malvasia del Lazio, Malvasia di Candia and Chardonnay. All these grapes, in various proportions, are used to produce the DOC Frascati wine, a very special table wine of limited production. The Casa Romana brand is the pride of the Estate."

While watching the production process, I learned, to my disappointment, that while the early civilizations dated to 1200 BC, the Pallavicini Estate began its wine production in the 1700s.

During the previous months, I had become cultured in the art of winemaking. I had also discovered something about the Italian people that, until now, I had only suspected; that everyone wanted to be on top. As soon as I mentioned to wine producers that I was a journalist looking for the oldest working vineyard in Italy, they would almost immediately ask the same question: "What is the oldest one so far?"

It soon became a game. I'd say, seventeen-hundred and receive a response of "Well, ours began in 1600." If I first said 1500, the reply would almost certainly be "We've been operating since 1450."

Upon return to my home in Naples, a local businessman suggested we visit the Island of Ischia, one of the areas noted for Campanian wines. At the local tourist office, we discovered that grapevines flourish on Ischia as well as its smaller, sister island of Capri. From these, wine producers like La Caprense bottle Bordo Capri and Capri Punta Vivara, both excellent whites. This same company puts out the red Solaro wine.

"The most famous wine of the island," the young girl told us, "is Biancolella, a fine white made by D'Ambra Vini d'Ischia."

"Is it possible to visit the winery?" I asked and, after several phone calls, she informed us that the person in charge of tours was about to go out, but would like to invite us to lunch on the opposite side of the island. So, off we went. Little did we realize that the selected restaurant, which overhung the southern cliffs of Ischia, was only accessible by taking a 20 minute donkey ride up the mountain slopes. Through rich, green Mediterranean flora we ventured up, and up, and up, at last coming onto a breathtaking view of the Bay of Naples, where our host sat patiently, waiting for our arrival. "I see you made it," he smiled.

While we feasted on bruschetti (baked bread with tomato and spices), macceroni ai quattor formaggio (macaroni with four different cheeses), and sogliola al forno (baked sole), all washed down with excellent white wine - Biancolella, naturally - the conversation turned to the age of D'Ambra vineyards. "We are old, dating perhaps to the Roman period," our host explained, "buy certainly not the oldest. By the time the Empire reached our coast, vineyards were already ancient history."

Well fed, yet discouraged, I road my donkey down the mountain and the ferry boat back to the mainland. On the way, however, I decided I would call upon a history professor at the University of Naples.

It was my conversation with him that ultimately led me to the Avellino, a mountainous area of the Campania region, forty-five minutes west of Naples by car.

"The winemaker Mastroberardino turns out some of the region's best wines," according to the Italian wine magazine Gambero Rosso, "particularly the white Greco di Tufo and Fiano di Avellino and the red Taurasi, made from Aglianico grapes."

It was, in fact, the winery of Feudi di San Gregorio, where these wines are produced, that my historian colleague had directed me. For unlike any other vineyard, this had a recorded history of ancient wine production. Perhaps I was expecting to find winemakers stomping grapes with their feet, as Ulysses and his men did for the Cyclopes in The Odyssey. What I found, however, was a modern winery, situated among the vineyards and using advanced technology to better capture and preserve the aroma of the grapes.

"Good vines in the best soil, and respect for traditional cultivation and winemaking methods, are essential for producing high quality wines; Feudi di San Gregorio is proud to possess these assets," I was told. "The use of contemporary equipment, in the crushing and bottling, does not distract from this tradition." I then took a deep breath and asked: "How old is the vineyard?"

"It dates back to the time of San Gregorio Magno. That is 590 AD and the secrets of centuries old cultivation techniques have been jealously kept alive by local farmers."

I was satisfied. While there may very well be a working Italian vineyard older than Feudi di San Gregorio, all my research and indications revealed the opposite.

That evening, I entered the world of Internet chat pleased with my year-long search, and the findings. And when I saw "Jason from Hawaii joins group," I immediately typed: "Jason, remember your question some months back about the oldest working vineyard in Italy."

"Yes," he replied.

"I think I've found it. Feudi di San Gregorio, in Avellino, has been active for over 1400 years."

"Oh, that's interesting."

Interesting. That's all? After a year of research I get "that's interesting?! What about "Great job, Mike!"

As I sat back, I recalled the words of playwrite Aristophanes, in 424 BC, "Nothing is so conducive to living an effective life as wine. Do you not see? It is wine drinkers who make money, clinch their business deals, win their legal cases, become happy, and help their friends."

I turned off the computer, walked to the kitchen, and retrieved the bottle of Greco di Tufo I had been given by its producer. Five minutes later, I was sipping the fine white wine and realizing that Aristophanes was right. It is not the age of wine that matters, but rather the effects it has on one's life.