As wine is considered as a normal part of the daily diet in France, an old tradition has been regaining ground the last 25 years in Paris: wine bars. This goes back to the old days with the 'bougnats, ' an old slang nickname to designate the Auvergnats, inhabitants of Auvergne, a province in the center of France, whose people used to emigrate to the city and open 'Vins et Charbons' bars/shops to sell wines and coals. Wine bars, also called bistros, are now more sophisticated and some are really worth stopping by. They are now places where we celebrate the culture of the authentic, the love for typical country products, the joie de vivre and conviviality. Any wine lover staying in Paris should look for these bistros where wine is at least as important as cuisine.

You can find them not on every street corner, but in all the districts of Paris, whenever you want to have a drink, eat a little snack or enjoy a real meal. They are run by passionate people, usually husband and wife, quite strong characters, whose greatest pleasure is to share their passion with their customers who rapidly become friends. If you are not sure of which kind of wine you want to drink, ask the owner, and let him advise you. You will then more often than not discover a wine you would not have thought of, and surprise your palate with unknown flavors. If you are offered a blind tasting, go for it and don't be ashamed if you can't identify the wine, as it is a friendly trick from the owner to challenge his best customers with his latest unusual discovery. In these wine bars, the atmosphere is quite warm, as most of the patrons who frequent these bars come to know each other. The chats go often between tables and by the end of the meal, you will not be surprised to know all the people sitting next to you and to share a bottle with them!

The wine bars take their part in the city life, as they often organize special events to which you might be lucky enough to participate, like the tasting of a lesser known appellation, the promotional region of the week, the celebration of the harvest, or the election of the wine bar of the year. When acknowledged for their dedication to wine, the bistros are presented by their peers with a trophy, the occasion for a big party which may last 'till the morning. The most popular one is organized each year in March by the association Tradition du Vin, which numbers 15 wine bars and whose trophy is the 'Golden Bottle.' They intend to launch a branch in California later on this year to share these pleasures with America!

In wine bars, you will usually find a large selection of light wines, which are often called thirst wines, and are the most commonly served by the glass at the counter. Among them, all the generic Beaujolais and Beaujolais Villages and some Loire Valley wines. Besides these wines, you will be served most of the Beaujolais crus, many appellations from the Loire Valley, Burgundy whites or reds, Côtes du Rhône, or Bordeaux red wines, like Côtes de Blaye. To a lesser extent, you will also get wines from Alsace, Provence, Roussillon or Auvergne, depending on the origins or the tastes of the owner. Grands crus are not neglected either, and you will be able to drink some with a famous pedigree at affordable prices. Anyway, the prices in these bistros are generally moderate and you can try most of the wines by the glass. In many cases, the wines come directly from the producers. They are carefully selected by the owner himself who goes each year to visit the producers, to taste their wines and prepare the supplies for the year to come.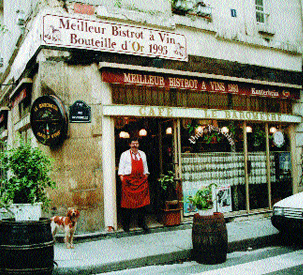 The food in wine bars is generally simple and robust, not really meant for people on a diet! You will always have the choice of a superb assortment of charcuterie (ham, sausages, pâtés, etc.) and of real country cheese, and some classical dishes: andouillette (chitterlings sausage), tripes, herring fillets, sirloin steak, or a choice of various salads with ham, eggs, duck, chicken and the like.
Each bistro has its specials, which are typical of the region from which the owner comes. While staying in Paris, you can then make a gastronomic trip around France and enjoy regional specialties, simply by visiting different bistros. You may also want to try the specials of the day, which depend on the mood of the chef and on what he found at the day's market. You will often find these dishes written on the 'ardoise' (blackboard) with a piece of chalk. Don't hesitate to try them, as you will be surprised by the quality of this daily bistro cuisine, with all kinds of traditional dishes, including foie gras, sole fillet, monkfish fillet in red wine, cassoulet, choucroute, leg or rack of lamb, beef stew, head of veal with Gribiche sauce, leg or slivers of duckling, stuffed cabbage.... If you are not hungry enough for a full meal you can have a tartine (slice of country bread) with homemade pâté, raw ham, or Roquefort cheese. Should you like sweets, the traditional desserts are always present: various homemade pies, caramelized custard cream, chocolate mousse, and pear Belle Hélène.
Then, to finish, you might be tempted by a 'digestif' (spirit). As for the rest, you will find some local specialties brought to Paris from a local distiller, a friend of the owner. You will try plum brandy from Souillac, mirabelle plum, pear or raspberry from Alsace, Calvados (apple brandy) from Normandy, marc (a spirit made from pressed grape skins) from Burgundy or Alsace, or of course Armagnac or Cognac.
In a far different style some hotel bars can also be very nice places to consider when feeling like a snack and a glass of wine. The atmosphere and service are far more formal but they may be worth the experience.
You will find hereafter a list of some of my favorites all over Paris. Be advised that they are not always open for dinner, nor during the weekends. If you know in advance where you want to go, it might be preferable to make a reservation. Otherwise, try to come early as these bistros are quite popular and can often be crowded. I wish you a good wine tasting experience in Paris!