What a waste. A loss to humanity, one of us said as we sat at the bar watching all that foam going down the drain.

Of course, it's the nature of things that Guinness stout must be poured slowly. It throws that wonderful, creamy head and must settle down a bit before the bartender tops it off with a second shot from the tap. Invariably some of the foam is lost as it's swept off the top to accelerate this process. But the foam is still beer, however oxygenated. And it seemed a shame to waste it.

The Bonn Lair is a neighborhood pub in east Sacramento. They serve respectable food, but without a proper kitchen their fare tends toward microwaved sausage plates and Cornish pastys and fish & chips brought over from next door. The place is known more for its beer and camaraderie than its cuisine. Surprisingly, the conversation at the bar runs to restaurants and recipes as often as to soccer, politics and more typical issues.

One of the regulars suggested that the foam could settle out and be used in cooking, but not a man - or woman - among us took home any of the dregs to our own kitchen. Over the course of two years occasional noises were heard about using some of that overpour in a cake batter or perhaps adding it to chili - after all, anything and everything can go into chili. Still, these were the musings of people passing time waiting for the next televised ball game or considering the virtues of a longer happy hour.

Once in a great while, bar talk is actually translated into action. The "what could we do with all that foam" topic recurred often enough to beget some ideas - not really recipes yet - that seemed to have promise. At some point the gauntlet was thrown and a few of the regulars declared a cooking competition could prove whose ideas had merit. To separate the merely opinionated from the doers we required an entry fee. Ten dollars and check with entry, if you please. St. Patrick's Home for Children was deemed a worthy recipient of any moneys raised and we were off. The area Guinness rep was invited to participate and he donated a number of T-shirts and other merchandise to use as prizes. The quid pro quo was that we expand the key ingredients list to include two other products his company distributes; Harp Lager and Bass Ale. Being brewed in Dundalk, County Louth, Harp continued the Irish theme. Bass did not, it being English, but we acquiesced, not wanting to have to give back the T-shirts and other swag. Actually, the addition of Bass gave us a full spectrum of flavors, from the lighter lager through the ale on the way to the full-flavored stout.

We sought the services of outside authorities. Having neutral, professional jurists would minimize any arguments and acknowledge the talent we thought might come to the fore. Three experts flattered us by accepting seats on the bench: Jean-Luc Chassereau, a genuine French chef; Mike Dunne, food & wine editor of the Sacramento Bee newspaper; and Michael Lewis, retired professor of brewing science from the University of California at Davis.

The competition was to be divided into five categories: appetizers and first courses, main dishes of fish or chicken, main dishes of red meats, vegetarian dishes, and desserts.

Giddy with our own creation, we mailed a few press releases. While still unsure of our own talent, we did feel we might break some new ground by cooking with beer, rather than wine, and thought the world might want to know. Also, more attention meant a better chance for us to do right by the St. Patrick's Home. A newspaper columnist gave us a plug and we were truly committed.

As would-be Paul Prudhommes and Julia Childs began seriously considering how to incorporate beer into a recipe, most thought of very full-flavored dishes. Chili was a recurring theme and some traditional pub foods were suggested, too. Perhaps the initial inspirations were ways to "bury" the beer in a recipe so that its unmistakable flavor (especially in the case of Guinness) wouldn't overpower a dish. The essence of this stout is complex. There is a wonderful creaminess at first, followed by a smoky/toasty flavor.

One old friend, Big Ric Dunseth, is a late entrant who drives over from the Napa Valley where he's the reigning barbecue champion. He's also a professional caterer and author of books on wine. We spend hours theorizing about the task at hand. We both feel that using lager or ale is taking the coward's way out and that stout offers an appropriately robust challenge. Ah, the egos of men who cook.

In the morning we set about proving our theories. Ric is preparing a rack of lamb which is to be marinated in cans of Pub Draught Guinness. I'm at work making a chicken in mole - a rich sauce featuring garlic, mushrooms, chili powders, and minced pasilla chiles in a reduction of Guinness. These seem to be coming together and we set off an a tangent.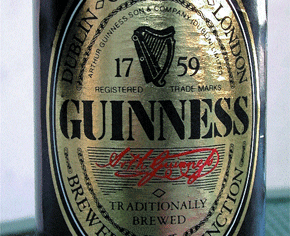 Is not a draft Guinness with that dark powerful bottom, topped by its lovely, creamy head reminiscent of a root beer float? We pitch into a brain-storming session which yields the idea of sliced bananas and kiwi topped with a syrup made from a reduction of Guinness. We discover that after reducing the stout by about a third, it begins to become bitter. Uh oh. . . what to do? Well, just as some wines go through a "dumb stage" prior to release and eventually come around, so does our Guinness. Curiously, further reduction seems to make it less, not more, bitter. Not wanting to take any chances, we add some powdered baker's chocolate and brown sugar to the syrup and a little orange zest.

Professionals they are, all our judges show up right on time and go over the ground rules. Each dish will be judged within its own category, with an overall winner to be chosen later as best of show. A 100-point scoring system is to be employed, with 20 percent for appearance, 30 percent for creative use of beer and the balance (50%) for taste.

Cooking facilities are somewhat limited, but the competitors make the best of it. Most have done some prep at home and do the finishing touches in the pub's back room. With appropriate ceremony, entrants are individually announced by the publican, Dave Boyet, and walk their offerings forward to the panel of judges. George Thompson comes out first, bearing his cheddar cheese with Bass Ale soup. Steve Tinscher follows with calamari stir fried in Guinness. Sandy McCullough has prepared separate dishes of prawns and mussels steamed in Harp Lager and Bass Ale and Bob Martin offers bratwurst and onions boiled in beer. These and other dishes in the appetizer/first course category show that in the hands of good amateur chefs, beer can be a delightful ingredient.

Main dishes of fish and poultry are judged next. I'm proud of my chicken mole - it's rich and complex, the flavors of the Guinness are well-integrated and there seems to be just the right amount of spice and heat. However, I'm denied a blue ribbon by Ann Marie Gonzalez who has also chosen to tempt the judges with a chicken mole. She's done nearly everything I have, but she's done it just a bit better.

Red meat dishes have attracted most of the entrants. There is formidable competition. Mike Eady has barbecued an excellent flank steak, Betty Madden has roasted a pork tenderloin with vegetables and Ric Dunseth's rack of lamb is beautifully presented and tastes great. Venison stew, pork spareribs and other dishes are also well received, but first place goes to a former Yorkshireman, Russ Berriman, who dazzles the judges with a shepherd's pie (a la Bass).

Jim Eady produces a nice pot of beans with bacon and takes a first place in the vegetarian category. We're flexible.

My bananas and kiwi with toasted walnuts and whipped cream over Guinness syrup wins a blue ribbon as the one and only entry in the dessert category. Chef Chassereau smiles and declares it "a good concept." The concept "damning with faint praise" comes to my mind.

Given the minimal kitchen facilities and waiting time between presentations, the overall food quality was startling. All entries were good. There wasn't a clinker in the bunch and some were truly outstanding. The entrants demonstrated that one rather small pub in California is home to a surprising number of competent cooks and that beers, especially strongly-flavored ones, can both complement good food and be an essential ingredient of a wide variety of dishes.

Those sons and daughters of Erin among us may have hoped for a special nod from the judges, given the mostly-Irish theme of the exercise. Grand prize winner by a clear margin, however, was Dennis Fukumoto. His salmon was marinated in Bass Ale, smoked over Guinness-soaked oak chips, and accompanied by a decorative salad with Harp Lager dressing. That the colors of the salmon in a bed of white shaved horseradish with surrounding green lettuces were reminiscent of the Irish flag may not have hurt his chances, either.

All involved seem to have had an enjoyable Saturday afternoon. We turned over $265 to Monsignor Kavanaugh to help his work at St. Patrick's Home and tended to validate the theory that reclaiming foam had a purpose.

We're rested now. We're confident. We're ready. The chefs of the Bonn Lair challenge all comers. How about a home-and-home series with a pub in Ireland?