It's not unusual to arrive home from a trip to Asia determined to share the delight of eastern cooking with friends and family.

Armed with cookbooks bought on location, you follow the recipes scrupulously, even making a trip to one of the many specialty Asian grocery shops to obtain the right ingredients. Friends and family are delighted with the result, but the taste of the food you've eaten on your trip is still fresh in your memory, and you know that somehow something isn't quite right. You wonder why.

A visit to one of Sri Lanka's spice gardens would explain all. It was the allure of spices, and the wealth they generated, that first drove Western merchants to brave the unknown oceans in search of profits.

Although the spice trade is not the gold-mine it once was, Sri Lanka still exports cinnamon, cardamom, cloves, nutmeg and mace, black pepper and turmeric. In addition to these spices, the tropical climate enables the home cultivation of many other spices, such as vanilla.

On a recent trip to Sri Lanka I visited Luckyland Spice Gardens in Hingula, located on the main road between Colombo and the hill capital Kandy. My guide, Kusum, who described himself as a homeopathic doctor, led me into what appeared to be wild jungle, but which on closer inspection was clearly heavily cultivated forest.

Our first stop was a cinnamon tree. Cinnamon has been a favorite spice since antiquity. The plant is native to Sri Lanka, a fact that was known to Marco Polo and his family who spread stories of the inferior Tibetan cinnamon (cassia) to confuse the competition. Kusum took out a small pocketknife and slit the bark. He invited me to smell the tree. I couldn't believe the scent; it was the sweetest and most delicious smell I'd ever encountered. Yes, I could tell it was somehow related to the smell of the cinnamon I used at home, but it was so much more. I was starting to get the picture.

We moved on to cardamom, a plant that resembles the flowering ginger that grows in many temperate zone gardens. Cardamom is a relative of ginger, but the cardamom pods grow on shoots which rise up from the base of the plant. Cardamom is particularly popular in the Middle East and is one of Sri Lanka's most valuable spice crops. It remains expensive because the pods must be gathered by hand. It also requires a shaded environment and so is grown under a canopy of higher jungle trees. Cardamom gardens are dark and moist; pickers must endure leeches and dampness to harvest the green berries. The berries are then transferred to the factory where they are dried, graded and transferred to Colombo for auction.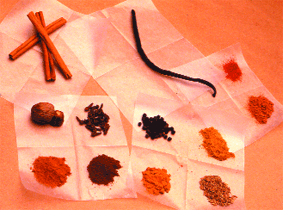 The clove tree looks rather like an olive tree but with denser and more abundant leaves. Kusum plucked a leaf, scrunched it and handed it to me. The pungent odor was unmistakably clove. Just the leaf smelled as strongly as the cloves we use here. The cloves themselves result from drying the delicate white flower buds the tree produces in clusters of six.
The real secret of the spice garden is the curry leaf tree. Picked fresh from the plant, the leaves' aroma conjures up an entire curry. It is a scent that can be smelled all over Sri Lanka and India. Even buying fresh, refrigerated leaves here cannot come close to the freshly picked version.
We moved on to the nutmeg tree and the story repeated itself. Kusum showed me the whole nut, which resembled a passion fruit. He then broke away the outer shell to reveal a red lattice of mace. Powdered mace is subtle, yet fresh from the tree it's a spice to be reckoned with. Finally we got to the nutmeg, a brown shriveled ball about the size of a large marble.
In addition to their commercial spices, Luckyland Spice Garden boasted ornamental plantings of saffron and cocoa, as well as the vanilla vine. Not all spices are primarily culinary; this jungle garden also contained the fragrant sandalwood tree. The oil extracted from this tree is highly prized both for perfume and as a beauty aid. A few chips of the wood are sometimes added to scalding milk to flavor custards.
When we had seen all the garden had to offer, Kusum and I sat down in a shady gazebo. He showed me samples of dried spices from the garden. In addition to individual spices, the estate sold its own version of Sri Lankan curry powder.
Though there are as many versions of Sri Lankan curry powder as there are Sri Lankan cooks, this aromatic mixture usually consists of coriander, fennel, cumin, fenugreek, curry leaves, cinnamon, nutmeg, cloves and turmeric. The powder can be made easily at home by grinding the spices and then dry roasting everything except the turmeric for a few minutes in a frying pan. Once roasted and mixed, the powder must be stored in an airtight jar to preserve its freshness.
In cooking, there is no substitute for the pungent flavor of curries made with freshly plucked spices. Every Sri Lankan who can afford it has a kitchen garden that includes whatever spices grow in their climate zone. Spices are ground for each meal, just prior to cooking. We can buy our spices whole and grind them as needed, but having now smelled the real thing, I'm ruined for everything else.