San Francisco is replete with tourist attractions: The Golden Gate Bridge, the Bay Bridge, Alcatraz, Golden Gate Park, Victorian homes, Cable Cars, and Fisherman's Wharf. Just as I wouldn't leave Italy without some olive oil and grappa, as tourists depart San Francisco International Airport, they invariably buy a loaf of Parisian sourdough French bread. It's as much a part of the city as Creole and jazz are to New Orleans.

The origins of San Francisco sourdough are obscure, though historians know that the distinctive bread was a staple of '49ers on their way to the gold fields. Baking was probably more lucrative than gold mining, and a lot steadier, for by 1854 there were 63 bakeries in the city. Today, about 70 companies compete for the French bread market.

Boudin Bakery, founded in 1849, is the oldest. Next came Parisian Bakery, founded in 1856-Parisian has been supplying Tadish Grill for 141 of its 142 years. Over the years many other competitors entered the market. Toscana and Colombo, both across the bay in Oakland, were founded in 1895 and 1896 respectively.

San Francisco French Bread Company, established in 1984, united the four companies under single ownership. Boudin broke away in 1997 when San Francisco French Bread Company was acquired by Interstate Brands Corporation, the largest wholesale baker in the world (Wonder and Hostess brands).

But not only is San Francisco French Bread run autonomously from other Interstate brands, Parisian even competes with Colombo and Toscana. While Colombo is the largest brand in The Bay Area, Parisian is the top brand in San Francisco and Marin.

Together, the three brands dominate French bread sales with 49% of the market, employing almost 1,000 men and women who work around the clock. They annually produce 60,000,000 salable units a year (a unit can be anything from a loaf of bread to a bag of rolls), of which 70% is sourdough, 25% sweet French, and 5% specialty items like focaccia and ciabatta. Together they service about 4,000 retail outlets in Northern California.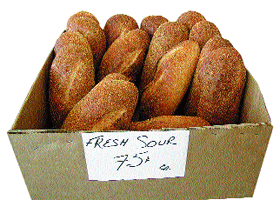 Locals have their favorites, crowding into the bakeries' retail stores each morning to snap up the freshest bread, the best bargains, and breathe in the heavenly scent of newly baked bread.
Each hour a portion of the mother dough is added to a mixture of water and unbleached flour (there are no other ingredients, no additives or preservatives), and left to ferment. Baking begins about 4 am. While the ovens are no longer wood fired, it's still a long baking process because there is no sugar in the dough. Baking sourdough takes 40 to 45 minutes, as opposed to just 26 to 28 minutes for white bread. The natural malt in the dough gives the bread its crisp brown crust.
The wild "lacto bacillus San Francisco" contained in the mother dough gives each loaf its distinctive "sour" tang, and is site specific, changing in response to the ambient temperature and humidity. So the mother dough in one bakery will not be the same as the mother dough in another bakery across town, nor will it remain the same if the bakery is moved, which is why each brand has its adherents.
Each brand's mother dough, also known as the mother "sponge," has been in continuous use since the respective bakery's founding, carefully maintained and replenished by generations of bakers. It could be said, with some truthfulness, that San Francisco's mother doughs are the oldest inhabitants of the city. So the next time you come to San Francisco, taste a loaf of sourdough and take home a bit of history.