A love affair is brewing with an incredibly tender and delicate white meat that weighs in with less fat, cholesterol, and calories per ounce, yet has more calcium and protein than chicken, turkey, beef, pork, lamb and even certain fish. Gourmet chefs and connoisseurs alike are reintroducing the culinary appeal of rabbit to the American palate.

Actually, rabbit only recently fell out of favor during the 20th century baby boomer era of the early 60's to the late 80's. With the exception of that short stint in time, its popularity has spanned the generations, with its use as a meat source dating as far back as 1500 BC.

Though it's long been held in high regard for its nutritional value, today's domesticated rabbit is considered as far superior to any wild rabbit of yesteryear (they're milder and plumper than their wild counterparts). Now its fine-grained, tender white meat is highly favored for its versatility, feed efficiency and productivity.

Rabbits can produce 6 pounds of meat on the same feed and water that it takes for a cow to produce 1 pound of meat.

Native to Morocco and the Iberian peninsula, Romans began importing live rabbits to Italy around the 3rd century. The early Romans are also credited with the first recorded rabbit farming, having kept rabbits in walled gardens or warrens known as leporaria. Their habitat was further broadened as sailing vessels relocated breeding pairs on islands within sea lanes to provide food for sailors. (Remember the 1859 release in Victoria, Australia, of a single breeding pair of rabbits? That population quickly bounced to an estimated 20 million rabbits in just 30 years).

The arrival of the 20th century brought an explosion in rabbit popularity and production. Rabbits became a constant presence on nearly every farm in European countries as well as the U.S. During the war years of the 1940s, domestic rabbit was quite prevalent in meat markets and rural homes, bringing rabbit production in the United States to an all-time high.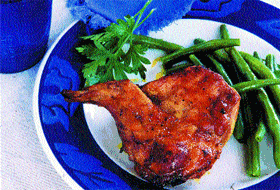 While Americans are indeed rediscovering their love affair with rabbit meat, France remains the world's largest producer and consumer. Yet rabbit is once again turning up in upscale restaurants and chain supermarkets as well as specialty meat markets throughout America (one can even order fresh rabbit meat on the World Wide Web), making it a convenient luxury for the finest in home dining.
Rabbit lends itself to braising in wine or stock, and associates wonderfully well with mustard, mushrooms, prunes and olives. I like young rabbit best when it is cooked slowly over the barbecue, then basted with a spicy marinade of blackberry jam, pineapple juice and ketchup, or enticingly baked in a Thai peanut sauce. Rabbit marries equally well with fresh ginger or garlic and particularly rosemary. Completely bone a young, tender rabbit and stuff it with a cheese filling heightened with fresh herbs, or bake it into a comforting pot pie. Others prepare it wrapped in bacon, sautéed with prosciutto and roasted red peppers, braised with fennel and balsamic vinegar, even presented as a Creole dish or served fricassee style.
When procuring dressed rabbit, your options are many. Packaged selections include frozen or fresh left whole or cut into pieces as well as boned or even ground into a tantalizing sausage. For superior meat at its tender best, select a fresh young rabbit or one that has been frozen less than 2 months. Young rabbits are ready for the table from 8 to 12 weeks of age, and usually dress out between 2 to 3 pounds. These can be prepared in any method or recipe suited to a young chicken, such as frying, grilling, barbecuing, roasting, or stuffed and baked whole in a moderate 350°F oven. An older, more mature rabbit excels when cooked slowly in a stew or from other moist-heat cooking including braising. Older rabbit is also excellent turned into a ground meat, with which you can create numerous recipes; it's quite distinctive when made into a breakfast or Italian sausage. Artichoke hearts, sun-dried tomatoes or even apples bestow a gourmet touch for the ultimate rabbit sausage.
Appreciated by connoisseurs, approaching the versatility of chicken with all the appeal of a delicate veal, rabbit can easily become an affair of the heart. Now with its wide availability, it no longer remains the elusive extravagance it was just 20 years ago.