I tasted my first margarita many years ago at the request of a beautiful lady who wanted to share her favorite drink with me. She showed me how to dip a wet glass in salt so that its rim would be coated, pour a blend of tequila and Cointreau and lime juice into the glass and drink it while tasting the salt against the sweet liquid. It sounded awful, but this was a beautiful lady. If she had told me to drink it from her shoe, I would not have hesitated.

I liked the yin and the yang of the salty sweet combination and that started my margarita phase. When our relationship, purely platonic as co-workers over the long distance phone, came to a close, my margarita period also ended. Occasionally, I'd try one on a hot summer night or on visits to the southwest, but never with any regularity and the margarita ran a poor third to vodka and scotch in my drink repertoire.

The margarita and tequila, its primary fuel, have had their ups and downs in popularity and tequila continues to be one of the most misunderstood of all spirits. The drink has been with us for little more than half a century and now arrives in infinite variations.

Tequila shot up in the drink charts in the 1940's when World War Two erupted and imported whisky became hard to get, so Americans looked to Mexico for an alternative. Imports from south of the border soared, then slowed to a trickle once peace came. It wasn't until two decades later when the spirit excited the imagination of adventuresome rock groups that it caught on again.

The margarita became fashionable in the sixties as The Rolling Stones and The Eagles sang the praises of tequila. The Eagles had the big hit, and their "Tequila Sunrise" was credited with inciting margarita mania among their followers and making the drink a must for the collegiate crowd. Unfortunately many of them never fully realized the beauty of the margarita, confining their drinking to nothing better than sweet concoctions churned out by slush machines. Too many still do, but there is hope as younger recruits step up to hand-mixed drinks and to upscale tequilas.

The Stones and The Eagles were followed by Jimmy Buffett, who scored with "Margaritaville," and for better or worse by Bobby Bare's "Pour Me Another Tequila, Sheila" and "Jose Cuervo, You are a Friend of Mine," by Shelly West.

Promotion is important and the tequila technocrats are as creative, competitive and opportunistic as any of the spirits marketers. They can tell romantic tales of small peasant distilleries in hidden valleys and talk of dukes and grandees and film stars and nobles who swore by the liquor of the mysterious plant known as the Blue Agave. However, what's in the drink remains the final criterion for acceptance. Today we're experiencing a boom in fine, limited production tequila as a sipping drink, following similar trends with high-end Scotch, Bourbon and Vodka. The Margarita, however, remains the sword-carrier for tequila, and it is the entry level for American consumers.

Like the Martini and the Manhattan, even the Cosmopolitan, it appears to have many fathers. The most popular version of its origin goes back to the late 1930's at Rancho La Gloria, a restaurant near Rosarito Beach, Mexico, just across the border from San Diego. The owner, Danny Herrera, created the drink for a showgirl named Marjorie King. "She was allergic to everything except tequila," Herrera recalled, "but she couldn't take it straight or even Mexican style with lemon and salt. So I tried to find another way for her."

Out of Herrera's experiments came a blend of three parts tequila, two parts Cointreau and one part fresh lemon juice. He added shaved ice, wet the rim of a glass with more lemon juice, dipped it in salt and filled it with the mixture. After Miss King gave Herrera's alchemy a royal nod, he named it in her honor, Margarita, Spanish for Marjorie.

Another version has a socialite named Margarita Sames blending the same ingredients as a party drink. Hotelier Nicky Hilton was a guest and he went on to feature the Margarita at his Acapulco Hilton. Other reports say the drink originated as early as 1936 at the Crespo Hotel in Puebla, Mexico or at the Tail O' The Cock Restaurant in Los Angeles soon after World War Two.

The basic Margarita recipe, like the Martini, has changed frequently. While some bartenders and home mixologists adhere to the original formula, the most accepted one today calls for 1 1/2 ounces of tequila, 1 ounce of Triple Sec (which is a lot cheaper than Cointreau) and 1 ounce of fresh lime juice, combined in a cocktail shaker and shaken, not stirred. Restaurant consultant Steve Olson takes the mix up one level, arguing that Grand Marnier is the only fit accompaniment for tequila and fresh lime juice in a fine Margarita. "Taste the orange liqueur options blind, side by side," he argues, and you'll never again consider using Cointreau or triple sec."

At Ideya in Soho, standard bearer for Latin American food in Manhattan, bar manager Fernando Peña pours a full 1 and 1/2 ounce shot of Herradura Silver or Reposado in his premium margarita , adds orange juice and lemon juice, triple sec and a ëspit' of Vanderhum orange mandarin liqueur. "Freshness is important here, so we use the same ingredients you might find in someone's home in Mexico or Peru. We don't use a sour mix in any drinks," Peña says. "The fresh o.j. and lime juice provide the right flavor and a miniscule amount of the orange mandarin liqueur gives us just the extra tang we want."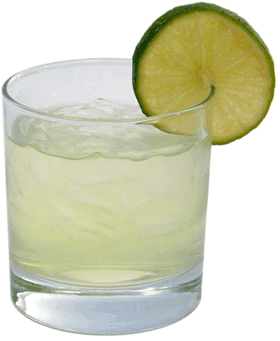 Today's margarita is a many-sided drink, changing faces easily and lending itself to varied blends. The changes start with the tequila itself, which can originate from a seemingly limitless choice of types, grades and styles. The well-stocked bar usually carries certain basic varieties. They are:
silver- clear and not aged
gold-AKA joven abocado, silver style with caramel coloring
reposado-aged in oak barrels for two to six months
añejo-aged in oak barrels for a minimum of 12 months
100% blue agave-top of the heap, superpremium tequila made only from the blue agave plant.
That's just the base spirit, but today's drink list also includes margaritas made with anything but tequila. You can enjoy a Mezcal Margarita made with Encantado Mezcal and brandy, the Key Lime Margarita made with lime-infused vodka or a Malibu Margarita made with Malibu rum, among dozens of variations. And of course there is a non-alcoholic version, the Virgin Margarita and a wine version, using white wine instead of tequila. This wine-based margarita is a specialty of the house at two prominent Mexican-themed restaurants, Frontera Grill in Chicago and Estrellita in San Francisco. Estrellita also offers a strawberry-mango flavored wine margarita. Mi Nidito, a Mexican restaurant in Manhattan offers 25 margaritas, proclaiming "a flavor for every meal."
The argument over whether to modify tequila with Triple Sec, Cointreau or Grand Marnier takes us to another wide open field. They and other ingredients are agents that take tequila up one level from a basic drink to the sophistication of the cocktail. The job of the modifying agent, says David Embury in The Fine Art of Mixing Drinks (Doubleday, 1958) is to temper the biting sharpness of the raw liquor while also pointing up and adding character to its natural flavor. "The flavor of the modifier itself," Embury emphasizes, "should never predominate but should always remain submerged."
Those first three are orange-flavored liqueurs. Cointreau and Grand Marnier both based on Curaçao oranges. Venturesome bartenders and liqueur promoters haven't let the orange-flavor barrier stand in their way, scrapping it altogether, so we now have the Melon Margarita made with Midori; Margarita Amore made with Di Saronno, the Tuaca Margarita made with Tuaca, the Raspberry Margarita made with Chambord, and on and on through the entire spirit and liqueur book. It's happened with the martini, why should the margarita be exempt?
Then of course, almost everyone tampers with the basic fruit ingredient. Fresh lime juice is wonderful, but limes can be terribly inconsistent depending on the season and origin of the fruit. Limes are often bitter and totally detrimental to a good margarita. So some bars throw in a ringer of basic sweet and sour mix, which can be sweetened lemon juice or a margarita mix.
Change the fruit entirely and you have a Maui Margarita based on, you guessed it, pineapple juice; Purple Margarita based on cranberry juice, even the Bloody Margarita, using a Bloody Mary mix or the Coyote, using prickly pear juice.
Using fresh or frozen fruit, the canny bartender can whip up a Blue Moon Margarita flavored by lemon sorbet; Cajun Margarita using jalapeño peppers; Mangorita using mangoes, and Pearita, using Bartlett pears. Then there are strawberry, peach and raspberry and all sorts of fruit variations, which, of course, can obscure the off taste of cheap tequila and other ingredients.
Of course, true tequila drinkers, particularly those working their way through the upmarket variations, take the drink straight as sipping liquor, or in shooter form, backing tequila with lime and salt and none of the added flavoring trappings. That's how they did it south of the border when compañeros were compañeros. The Mexican essayist Efrain Huerta , satirizing the ritual, advised his readers to pour tequila into a tall shot glass while pouring salt on the back of the left hand held close to the mouth. "With your right hand," he wrote, "slap the fingers of your left hand. The salt leaps mouthward and the ritual begins. Sip on a lemon. Drink. The moment will arrive when you earn your degree as an authentic, true-blooded Mexican cowboy."
Oddly, many Mexicans came to tequila in the belief that it was a remedy for the epidemic of Spanish flu that ravaged much of Northern Mexico in 1930. That sort of thing happened in the 1840's when absinthe, now banned, was distributed to French soldiers in Algeria to ward off malaria, thus creating an epoch of absinthe which alternately brightened and darkened the saloon scene of turn of the century France.
Tequila and mezcal were prescribed for easing female menstruation and relieving the pain of childbirth. The spirit was believed to kill worms and prevent other parasites from spreading. There were some who believed it was an aphrodisiac. Heroes praised it as a restorative and artists and writers cited it as an aid to creativity, again echoing the claims made by absinthe drinkers who fought against its banning in the early 1900's. Unlike absinthe, there are no doubts about the virtues of tequila and the margarita, and they are here to stay .