It may not have the plate presentation of sushi, a fancy name like tandoori or require expensive, exotic seasonings like saffron, but jerk cooking has been making its way into restaurants across America and throughout the world since the 1980s. This rustic, traditionally Jamaican home cooking and unique seasoning method is the Caribbean's answer to American barbecue. In fact, jerk is so popular it's considered the fast-food favorite in Jamaica today.

Though traditionally cooked in open-ground pits, half-cut steel drums are commonly used as makeshift "grills" in modern Jamaica. Throughout this region known for it's Blue Mountain coffee, you'll find vendors hovering over smoky fires in jerk huts, slow cooking their uniquely flavored delicacies.

With many theories on where the jerk name came from, the most popular is that it's a variation on the world charqui, a Spanish term for jerked or dried meat, which eventually became jerky in English. Another possible origin links it to the act of jerking strips of meat from an animal carcass, since whole hogs were originally used in the process. But wherever it gets its name, it's the flavor that delivers the legend created by the Arawak Indians and the Maroons centuries ago.

The jerk experience is a combination of culture, authentic flavors and slow cooking. Though the slow-smoke method is an age-old Caribbean practice used to cure meat, by marinating or rubbing meats, seafood, and even vegetables with the right seasonings and then slow grilling them over wood, jerked foods take on a spicy-sweet flavor and tender texture that's unmatched. Famous for its fiery hot mixture centered around the Scotch bonnet chili pepper, considered one of the world's hottest, jerk is like a carnival of flavors that come together in your mouth.

Jerk foods are easy to make with a good recipe and an understanding of the necessary ingredients. Rubs and marinades are created with three primary seasonings: the Scotch bonnet chili pepper, ground Jamaican pimento allspice (made from the berry of the evergreen pimento, which is native to the West Indies and South America), and thyme (either leaves or ground). In addition, cinnamon, nutmeg, black pepper, and scallions contribute to the spice base. To create a paste as a combination rub and marinade, cooking oil, vinegar and soy sauce can be added with brown sugar, onions and dark rum as options (see recipe). The spice can then be adjusted by diluting the mixture with soy sauce, vinegar or other liquids. Ready-made jerk seasonings are also available and can be combined with fresh ingredients to create your own favorite combination of savory flavors.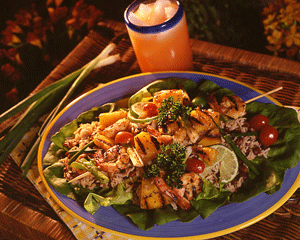 Marinating
Pork or beef can be marinated for up to two days, chicken for one, but no longer since the seasonings will start to cure the meat and change its texture. Fish and other light foods should only be marinated for a few hours, and shrimp (and vegetables) may only need a slight rub to soak up the flavor of the jerk spices. If using a dry rub, it's best to put the meat in a sealed bag to prevent drying. With a wet marinade, dilute the jerk paste with water, soy sauce, vinegar, or rum (Beer makes a good addition to the shrimp marinade) and place in a shallow container. Be sure to turn the meat so each side is thoroughly marinated. Once the food is fully flavored, it's time to fire up the grill and start smokin'.
Firing up the grill
You don't have to dig a pit or use an oilcan to get the authentic Jamaican jerk flavor, but it's best to use pimento (from Jamaica) or torch wood, if it's available, in your gas or charcoal grill. If not, oak or mesquite is a good replacement. Never use charcoal or gas alone. You won't get the wood smoke flavor that's so much a part of the jerk experience.
Soak the wood in water for several hours so it won't burn, and then place it over a hot gas grill or smoldering coals. The wet wood keeps the fire from getting too hot and creates the smoke needed to flavor the food. If the fire is too hot, the meat will char outside and still be raw inside. Since jerk cooking is a slow process, it's important to let the flavor gradually cook through.
There are several ways to determine when the meat is done. Experienced cooks can judge by touch - if it's well done, it should be firm. Fish should be white and firm to the touch; poultry should be cooked until the juices run clear and the meat is tender; pork should reach about 145 degrees Fahrenheit when checked with an instant-read thermometer. Because of the tenderizing of the seasoning combined with the slow-cooking process, you can even overcook most meats and still have a tender product (just be careful with the lighter meats and seafood).
Though summer is the best time for grilling, if the weather isn't right outdoors, a stove-top or water pan smoker made up of a stack of pans may be the answer to jerk cooking indoors. The bottom pan holds the soaked wood chips while the pan above it holds water, vinegar, rum, beer or anything else you want to add to flavor the jerk-spiced meat.
It's easy to bring the delicious flavors of the Caribbean to your table. With a little planning, some basic knowledge and an adventurous palate, jerk cooking is something the whole family can enjoy.