The land of barren cliffs, grassy knolls and ancient Celtic art, Ireland may be one of our favorite destinations for seascapes and lore, but aside from sampling smooth, stylish whiskies, most of us probably aren't racing to the Emerald Isle to experience culinary mastery.
It took a couple of Australians to introduce me to the burgeoning cuisine from the island of my ancestry. Always looking to introduce foodies to the growing culinary landscape, Marieke Brugman and Sarah Stegley of Australia's legendary Howqua Dale Gourmet Retreat assemble food-focused tours to developing culinary pockets like South Africa's wine country and the coast of Portugal. When the pair told me they were organizing a two-week introduction to the emerging cuisine of Ireland, how could I resist tagging along?
Our gourmet tour focused in the country's south, where some of the earth's cleanest, cold waters play host to a substantial array of sea life. The region is also blessed with prime growing conditions for anything from the ubiquitous potatoes and wheat to strawberries, tender greens and some of the world's finest lamb.

What has now been dubbed Ireland's "Culinary Renaissance" actually began shortly after the Second World War in the kitchens' of two of Ireland's most savvy housewives, who were the first to remind their countrymen of how good the local ingredients could taste.

Myrtle Allen never considered herself a culinary genius. She was just doing what seemed most practical. As a young, country bride in County Cork, she learned to cook with all the local ingredients from her husband's farm market business. But by the end of World War II, when export economics were sluggish, she decided the family farm products could be put to better use by starting a restaurant and lodging house called Ballymaloe. "The restaurants were so poor in the area that I knew I couldn't do any worse." Shunning greasy fish with chips and watery porridge, Allen quickly outshone the competition with her fresh, simple dishes.

Around the time Allen entered the culinary world, Maura Foley joined the hospitality ranks with her own regionally focused cuisine in Kenmare in County Kerry, a quaint town where the shops are decorated with window-boxes full of colorful flowers. Her restaurant, Packies, brings new life to what was her original inspiration, her uncle Patrick's produce shop. The handwritten menus boast the finest local flavors, including wild salmon, Cashel blue cheese and a bouquet of herbs straight from Foley's personal garden.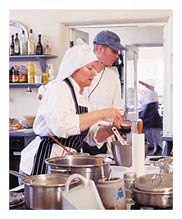 The respect for regional products generated by these two inspirational cooks has recently opened doors for Ireland's ever growing number of outstanding artisans, like Frank Hederman. The nation's only natural fish smoker, Hederman has helped to raise awareness of Irish products by supplying his smoked salmon, eel, mussels and cheeses to the country's top restaurants as well as a thriving export business.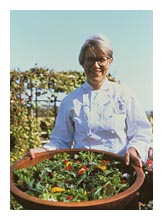 Allen and Foley have also helped to nurture Ireland's tradition for cheeses, which could easily rival the goat and ewes' milk styles of France. As a matter of fact, it is rumored that the only goat cheeses used by Darina Allen, the country's leading culinary instructor, are the soft, semi-aged and aged styles from County Clare's Inagh Farmhouse.

As the founder of the world class Ballymaloe Cookery School, Darina Allen could easily be regarded as the spokeswoman for the Irish culinary landscape. The daughter-in-law of Myrtle Allen, Darina originally found her way to Ballymaloe to study as an apprentice chef. Grasping the nation's culinary identity long before her peers, Darina Allen was instrumental in bringing fine Irish cuisine to the masses through her school and her presence as a culinary advocate. Instead of teaching home chefs to create French soups and architectural pastry, she shows groups, like our Aussie tour, how to make soda bread, rhubarb tarts and baked plaice with herb butter the way the Irish have made these dishes for centuries - using ingredients straight from the local farm and the sea.

Allen's influence has paved the way for a new generation of women chefs, like Hazel Bourke, who apply the finesse of formal training to the hearty fare of Ireland's past. On the evening we visited Bourke's dining room at the romantic Assolas Country House in Kanturk, the nightly menu featured the flavors of spring plucked from Bourke's garden, including baby turnips, pak choy and a cream of cucumber and dill soup.

Bourke's menu represents the kind of cuisine for which the Southwest of Ireland is increasingly being recognized. By combining the refined techniques of French cooking with local ingredients and traditional dishes, Bourke has put together a menu which is highly refined, distinctly Irish and exceedingly delicious. (I can still conjure up the flavors and textures of her tender Kenmare mussels, crisp-skinned duck confit and dense, pungent Cashel blue cheese tart).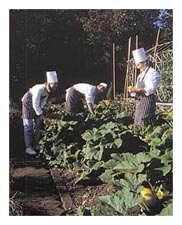 Other young chefs bringing culinary acclaim to the Emerald Isle, travel as far away as North America for experience, only to realize the finest opportunities were growing under their noses back home. One such chef is Kevin Dundon who trained at the Canadian Culinary Institute and cooked for hungry skiers in Banf before making a home and a name for himself as the chef/proprietor of County Wexford's touted Dunbrody House. In addition to bringing city sophistication to the pastoral Irish countryside, Dundon brings support to the small, local farms and fisheries by sourcing nearly every ingredient for his unquestionably Irish dishes such as rack of lamb with whiskey-orange marmalade from Wexford producers.

From the refined to the sublime, we learned our lesson that paired down is equally successful to dressed up on the Irish scene, with a visit to Island Cottage on Heir Island in the country's most remote west. Having trained and worked extensively in France, Chef John Desmond is no stranger to haute cuisine. But in his seaside cottage, reached only by boat, formality is frowned upon.

Although I'd put my faith in Stegley and Brugman's capable hands - enjoying the spoils of many of Ireland's finest inns and restaurants - I had to start doubting their judgment when they first proposed we take the "ferry" to Desmond's cottage. A rickety ride on what was little more than a faded, wooden rowboat with a motor strapped to the back and a fifteen minute, wind-whipped hike later we arrived at Desmond's hideaway. Grateful to catch our breath, we were ushered to our table by Desmond's no-nonsense wife Ellmary, (who runs the front of the house with the efficiency of a German general) as loaves of bread were slapped on the bare table.

But despite the evening's unusual beginnings, our meal was one of the most seductively flavorful and distinctly regional of the trip. From the wild smoked salmon with dill mayonnaise and dense, country loaves, to the wild duck with mashed potatoes and sea greens, it was clear that Desmond is a master with the local resources. Our meal combined the essence of the sea and the scrubby, brush-covered hills, proving on one final, unforgettable evening, that Ireland's culinary identity is well embedded in its natural landscape.