Imagine this: the family function is at your place and your aunt drinks tea, your sister-in-law is under doctors orders to not drink caffeine, the kids would be willing to play outside while the adults talked if there was some hot cocoa waiting for them when they returned, and everyone else likes coffee - but you know some of them order lattes and cappucinos three times a day at starbucks. Enter the single serve hot beverage maker to get everybody taken care of.

These machines are *not* downscaled versions of the old airport vending machines that dispensed what hardly passed for coffee into an uninsulated paper cup - these countertop wonders consistently deliver hot beverages which equal or exceed in quality what we are willing to pay 2 or 3 dollars for at a certain gourmet coffee shop. Gone are the days of throwing half a pot out that went undrunk, or worse, reheating cold coffee in the microwave when we're in a hurry to just get in the car and go - in under a minute you can have a perfect hot cup with hardly any mess to clean, and not waste a drop. Everyone can have exactly what they want, a cup at a time.

The makers we're looking at use pre-measured servings, although there are one cup makers out there that are simply scaled down versions of the brewer you probably have on your countertop. Let's first take a look at one camp which use what are knows as 'pods'.
The pods themselves are premeasured portions of coffee that are enclosed in a circular sandwich of filter type paper. There is some compatability between the various makers and the pods that may be purchased for them. One very positive thing to know about pods is that they are going to be the easiest for you to find when you run out - look in the coffee section of your grocery, they are probably there already - if not they will be soon. Pods are also cheaper in price by roughly 30% than the the other consumables (for the most part) and there are also refillable pods for those of us who love using the maker but for whatever reason would still prefer to scoop the grounds in ourselves.

The Krups KP1010 Coffee Pod Brew is an attractive unit which includes water filtration built in (which eliminates the need to buy seperate filtered water for the optimum cuppa). This is one of the units that is designed for the Home Cafe line of pods, but we were able to brew pods which were meant for the Senseo (profiled next, the pods have a just slighlty larger size) and it didn't miss a beat.

We like the krups alot - it can brew two cups simultaneously in three sizes and has a large water reservoir. The trays which the pods are inserted into are easily removed for dishwasher safe cleaning, as is the water reservoir. Stylish but unobtrusive on our countertop, it was the 'pod' brewer we found oursleves using most while researching this article, consistently giving us a low hassle and high quality cup. There are two types of insert to hold the pods depending on whether they are ground only or latte type drinks. As far as the specialty drinks like the latte/cappuccino - they tasted great, but we'd like to see some improvement in getting that head frothier. As a side note, krups has recently started selling an amazing espresso/cappuccino maker that dummy-proofs the whole milk frothing process - check out the XP 4000 to learn more.
We also liked the Senseo Single-Serve Coffee Machine alot. The cup brewed by the senseo is unique among all the makers - every cup has a delicious frothy head (due, it seems, to the effect of tightly packing the grounds in the pod after being inserted in the maker), which makes the resulting beverage seem more like a coffespressocino than just a cup of coffee. The senseo can also brew two cups simultaneously, and has a striking design and small form factor which won't impact your counterspace much.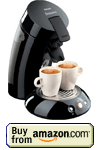 This brewer could as easily live on your desk at your office as at home in your kitchen. We tried brewing some Home Cafe pods in the senseo and it was slightly diluted due to a very small difference in size, but it appears that the size which the senseo wants (62 mm) is the most common - either way there is a large selection available under the senseo brand, with new flavor and drink offerings coming out frequently. There is a cappuccino which has just came out which takes advantage of the Senseo's frothy abilities well and produces one of the better tasting of the cappucinos we made with the various machines.
The Bunn MyCafe is a no nonsense machine whose designers focused on designing a quick, easy to use machine which produces first rate coffee every time. Coolbeanspods.com (which, by the way, is an excellent online store for your coffee pod needs) rates this machine as being one of the two best available - it can brew 'gold cup standard' at the requisite 10 ounces and has a pump strong enough to qualify the machine a commercial rating.

One feature of this machine which we liked was that you can scale your serving size to anywhere between 4 and 12 ounces (fill your favorite cup right to the brim), and it also provides enough vertical space between the cup base and where the coffee comes out to fit tall cups. The maker we received uses a pourover water reservoir, but a model is also available that will plumb directly into the water line, which would obviously be incredibly convenient.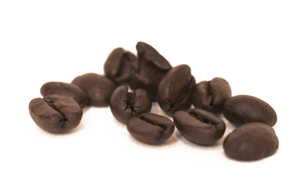 On to some non-pod machines...
The first time I got to try this 'one cup of good coffee of my choice' idea was several years ago, when a dotbomb I worked at had a Flavia machine installed in the break room. We all loved it, and within not very long of bringing the machine in the old fashioned coffee service was discontinued altogether, and nobody complained. Owned by Mars Inc., Flavia offers a wide range of beverages under their brand, from wellbeing and chai teas to Milky Way flavored frothy topping and coffee choices from around the world. The Flavia Fusion is a very uniquely styled machine which takes up hardly any counterspace. The drinks are all quite good - the cappuccino it makes is picture perfect every time, and the wide variety of flavors and strengths of coffee available will make it attractive to most coffee lovers.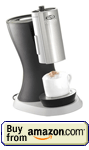 The 'Drinks Medley' we received with the unit included a wide array of their flavor offerings and other goodies such as sprinkles and syrups (not to mention a road mug). The medley is a good place to start with the Flavia in selecting the flavors you'll be ordering to keep on hand for yourself and guests. The 'filterpacks' are available online or by 800 number. Those with a more conservative eye for design may consider the SB100 which has a 14 drink capacity as opposed to the Fusion's 6 drink capacity, and like the Fusion also features an activated charcoal water filter.

Braun offers the Tassimo Hot Beverage System which is one of the brainiest of the bunch. The Tassimo flavor 'T-Discs' are flying saucer looking affairs that have bar codes which the maker reads and then adjusts temperature, procedure, and amount accordingly .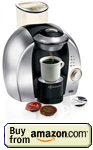 The Tassimo probably makes the best cup of whatever you put into it that we tried - the cappuccino is spot-on, the hot-chocolate made the kids clean the living room and cease-fire in anticipation, and the quality coffee should make a certain seattle-based coffee company shake in their hiking boots. The Tassimo includes an optional water filter, so again, no need to make the extra filtered water purchase. The Tassimo was also the most difficult to keep clean, and the tray that holds the coffee discs started sticking not long after we started using it (probably blame the cocoa for that - an included cleaning T-disc helped this problem somewhat). The T-Discs are available
online, as well as at some not-where-you-usually-buy-coffee places in retail.
The Keurig B-60 is no slouch in the brains department either. The B-60 has an LED display which will tell you when it is time for descaling, allows you to program the desired temperature to brew at, and is probably the easiest of the non-pod units to operate, and after close to 100 cups being brewed it is still almost as clean as when we pulled it out of the box. The coffee is excellent, the design smart, sturdy and attractive.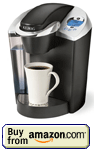 Like Flavia, Keurig has been doing one cup at a time for years, and they have a very wide brand selection of coffees, teas, and cocoa to choose from
(and there is also a reusable coffee filter available). We had no problem locating their K-Cups at Target, and a local coffee supply we called had them available as well. The B-60 also features a mellow blue glowing light which illuminates it's ample 48 ounce reservoir capacity (they offer non-illuminated models as well). All in all, it is our sample group's favorite machine out of the ones we've had an opportunity to use so far.
It can be safely said at this point that the single serve beverage brewer sensation isn't a passing fad; a recent poll on the epicurean.com home page tells us that about 30% of participants already have one that they use. In selecting one you may keep in mind that if you're looking for a maker that does an authentic cappuccino as well as it brews coffee, you'd do well to not go the pod route and look instead towards the Tassimo or Flavia, but if coffee and tea is where it's at for you, then the pod machines do just fine (especially if being able to pick up coffee at the grocery is a dealbreaker) - however the Keurig may the be ticket for you as well, since their selection of available coffee from respected bean vendors is extensive and may be more appealing to the connoisseurs among us. Take a look at your grocery or megamart and see what coffee offerings are available to you there, and if you are willing to purchase primarily online, then the Flavia or Tassimo would be good choices as well. An excellent website for further info to assist you is www.singleservecoffee.com which is one of the most comprehensive blog sites I've seen on any subject whatsoever. Whichever you choose, you may look forward to a consistently delicious and easier to prepare cup of the hot beverage of everyones choice.