While Gewürztraminer has strong associations with both Alsace and Germany, few realize that it originates from the South Tyrolean town of Tramin at the foot of the Dolomite mountains in an area now known as the Alto Adige in reference to the Adige river that flows through the middle of this narrow steep sided valley.

Wine grapes have been grown here since before recorded history, and the vintners of the area were already using wooden wine storage tanks when they came under Roman rule 2,000 years ago. Settled by Bavarians in 570 AD, Süd Tyrol joined Austria in 1363 only to be ceded to Italy after World War One. Seventy percent of the population still speaks German and wine names appear on the label in both German and Italian. When a town is predominantly German speaking, the German name comes first as in Tramin/Termeno, and vice-versa as in Bolzano/Bozen.

The wine culture here is predominantly Germanic in style, but viticultural practices predate even the Romans. Since before anyone kept records on the subject, the vines have been trained in a peculiar way that is both beautiful and effective, particularity on hillsides. Called the pergola system, the vine canes are trained to grow in a nearly horizontal fashion on the downhill side so that the intertwined canopy on a row of vines resembles a three foot wide shelf.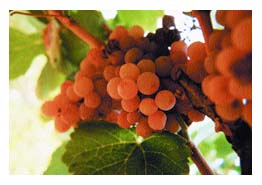 The fruit hangs underneath the shelf, shading it from the sun, protecting it from hail, promoting air flow to inhibit fungus, and providing maximum photosynthesis. On slight slopes and flat land the vines are often trained in a double pergola system in which opposing rows of vines stand shoulder high and the canes are trained to grow toward each other, forming a cathedral-like arch with a rather wide space between the rows. Not to waste this space, these thrifty people sometimes plant other crops under the double pergolas. Pergolas are still prevalent, but in the last decade they've begun to make way for more modern, though less picturesque, trellising systems.
The Traminer grape takes its name from the town of Tramin, where the variety originated. "Gewürz" is the German word for spicy, hence Gewürztraminer is the name given to the spicier clones of Traminer. The Italians call it Traminer aromatico, which is more to the point, as Gewürztraminer's charm lies in it's floral aromatic qualities. The acreage of Gewürztraminer around Tramin has dwindled in recent decades because of a general lack of interest in the marketplace, so that today there are only a meager 296 acres planted to this native variety. But it is still the showcase white wine of the region.


Alsace may steal the show; Germany may vie for attention, and the New World may one day prove worthy of the variety, but Gewürztraminer is still alive and well in its birthplace, Tramin/Termeno, Italy.