Nowadays it's a veritable golden age for fans of food television, as if you hadn't noticed. Which makes it a far cry from those days of yore when Julia Child and the Galloping Gourmet ruled the airwaves and that was about the extent of it.

Today, of course, with the ever expanding and increasingly specialized cable universe, we actually have a network devoted to nothing but food shows, not to mention some great selections on other networks. If that's not bounty enough, consider the miracle of the digital video recorder, which makes selective viewing (and commercial zapping) easier than ever.

Of course, if your food viewing repertoire hasn't progressed beyond the usual suspects, food celebs with names like Rachel and Mario and Anthony and That Guy Who Says Bam!, you're selling yourself short. What follows is a list of lesser-known food shows that are absolutely no less entertaining and informative and perhaps even more so.

Follow That Food
Follow That Food typically opens with energetic host Gordon Elliot discussing the episode's "guest star" and how it's grown, produced or whatnot. He proceeds to "follow" it around the globe, visiting with a high-powered chef at each stop to see what miracles they can perform with the food. Among the many foods and beverages Elliot has tailed, everything from prawns and pineapple to Stilton cheese and tequila.

Food Hunter
Food Hunter's basic premise isn't that far from Follow That Food, except that host Pete Luckett, "your international traveling greengrocer" tends to stay in the region he's focused on for each episode. In addition, Luckett, a successful greengrocer as well as TV host, sticks to fruits and vegetables, though he's not averse to sampling other local specialties while on assignment. Some of the foods Luckett has tracked thus far - macadamia nuts, saffron, truffles and paprika.

Inside Scoop
The cameras of Inside Scoop proceed in verite style, giving the viewer the... well, the inside scoop on a variety of food-related topics. They include a visit with Sting's personal chef; a pilgrimage to Good Housekeeping's rigorous and rather impressive test kitchens; food preparation and consumption (and yes, even excretion) in space and the lowdown on what food stylists do and how they do it.

Made To Order
I haven't figured out exactly what Made To Order's angle is, but the episodes I've seen thus far have been interesting enough. From what I've gathered, the show is mainly an excuse for restaurateurs Guy and Michael Rubino - brothers who own a pair of ritzy restaurants located across the street from each other - to wax opinionated, trade witty jibes and show off fancy food prep techniques. Like the episode where the gang debates whether wild and farm-raised trout taste different, proceed to stage a contest to settle the issue and call in environmentalist David Suzuki to lend his opinions.

Opening Soon
If your notion of great TV is a show where people endure tribulations that make them tear their hair out, add Opening Soon to your required viewing list. Another verite style production, each episode follows an aspiring restaurateur as they endure the many trials leading up to opening night. Of course, if you're the type whose delicate sensibilities can't endure such horrors as leaky ceilings and foot-dragging contractors, you may want to pass.

Recipe For Success
Eric McLendon serves as the host for Recipe For Success, which follows food entrepreneurs as they struggle to get established in an often unforgiving marketplace. Among the aspirants, a group of twenty-somethings struggling to get a hot dog restaurant underway, a soy cheese pizza restaurant, a granola company and more cookie companies than you can shake a spatula at.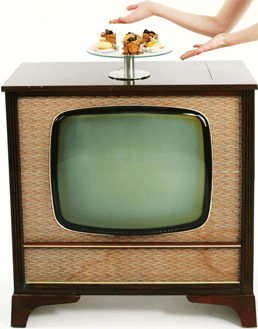 Restaurant Makeover
In contrast to Opening Soon, which focuses on new restaurants, Restaurant Makeover fixes its lens on eating spots that are well past their prime. Each episode rounds up a different designer and chef - though some are utilized more than once - to breathe new life into ailing eateries that range from plain Jane neighborhood joints to high-falutin' upscale spots.
Roker On The Road
America knows him best as the jovial, wisecracking weatherman on NBC's Today show. But in his spare time Al Roker - who heads his own production company - turns his jovial, wisecracking ways to traversing this great land of ours, poking his nose into the many foods we eat and the ways we eat them. Episodes have covered a great deal of territory thus far, everything from bubble tea, ice cream cakes, Mallomar knock-offs and even a visit with a cake mix doctor.
The Secret Life Of
Jim O'Connor, host of The Secret Life Of, is either one of the most genuinely enthusiastic human beings on Earth or he's a helluva good faker. The show finds O'Connor jaunting around the United States to learn all about the finer points of foods (pasta, fried chicken, hot dogs), treats (candy bars, chocolate, ice cream) and concepts (Southern food, comfort foods, fiery foods). Be sure to keep an eye out for O'Connor in his other food show role, hosting Food Network's All American Festivals.
Taste of America with Mark DeCarlo
One of the best of the Travel Channel's handful of food-related offerings, Taste of America covers roughly the same territory as Roker on the Road and The Secret Life Of, though host Mark DeCarlo, a former stand-up comic, may have the edge in the wisecracking department. Among the assorted and sundry delicacies DeCarlo has encountered in his endless rambles - shoo fly pie, birch beer, wedding cake and a tofu festival.
Thirsty Traveler
Kevin Brauch - the Thirsty Traveler - has a job that some people would give up a kidney (or liver) for, though one can't help picturing him checking into a twelve-step program one day. A former bartender (how appropriate), Brauch travels the world in search of fine alcoholic beverages, usually sticking close to a region that's famous for a particular specialty. The show tackles its fair share of wine but has also covered numerous other beverages, including Belgian beer, Irish stout, maple liqueur and Scandinavia's potent aquavit.
Unwrapped
If Unwrapped host Marc Summers looks familiar it may be from his previous hosting duties, which included Double Dare, a show in which guests were more likely to be assaulted with food than consume it. Unwrapped typically takes a look at several foods per show. It's usually centered around a theme - including anything from bubble gum and beer to spooky treats and party snacks - and tends to focus on how foods are made. Thus you'd better get used to seeing lots of footage of production lines and guys wearing goofy hairnets.
William I. Lengeman III is a Pennsylvania-based food writer, book reviewer and freelance (writing) gun for hire. He also maintains Tea Guy Speaks, a Web site devoted to the appreciation of tea.