Food and science. Not a pair of words that you normally expect to see associated with each other. But the fact is that there is no aspect of food production and consumption that is not inextricably intertwined with science, whether it be the growth of plants and the development of animals, to preparation and processing of food stuffs to perhaps one of the most fundamental aspects of all - at least for epicureans - how we actually perceive the often complex and subtle flavors of our food.

It's overstating the case only a bit to say that Harold McGee pioneered the fine art of making food science accessible - lo, even entertaining - to the masses. Nowadays there's almost an embarrassment of riches out there when it comes to books like McGee's, but in 1984, when he first published On Food and Cooking: The Science and Lore of the Kitchen, that was not the case.

Twenty years later McGee issued an updated and extensively revised edition of his now classic work. A hernia-inducing compendium of gastronomical geekery, it weighs in at just under 900 pages. In the interim, McGee also managed to knock off another 300 or so pages of much the same sort of thing in The Curious Cook: More Kitchen Science and Lore.

If you only have room for one food science book on your shelves, On Food and Cooking should probably be the one. But if your library is a little more capacious there are quite a few other options. One of the most recent is a translation from the French of Molecular Gastronomy: Exploring the Science of Flavor, by Hervé This. It's a food science work that, in large part and as the title suggests, narrows its focus to that point where the food and drink we ingest interacts with our taste buds.

Also of recent vintage is Let Them Eat Flax: 70 All-New Commentaries on the Science of Everyday Food & Life. It comes to us courtesy of Dr. Joe Schwarcz, a Canadian chemistry professor and pop science writer who's also authored such works as Dr. Joe & What You Didn't Know, The Fly in the Ointment, and That's the Way the Cookie Crumbles.

Robert Wolke's most recent contribution to food science publishing is What Einstein Told His Cook 2: The Sequel. Subtitled Further Adventures in Kitchen Science, it's a follow up to his 2002 volume What Einstein Told His Cook: Kitchen Science Explained. Wolke, another chemistry professor and a syndicated food columnist too, takes a similar approach in both books, serving up a dash or three of humor, geeky type info like why onions make us cry and why hot dogs are pink and a smattering of recipes like Ricotta Fritters and Salt-Seared Burgers.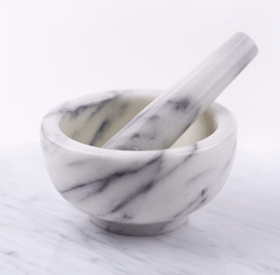 Thanks to his exalted position as the host of the Food Network's Good Eats, Alton Brown is probably our most visible food science popularizer. His first contribution to the canon, 2002's I'm Just Here for the Food: Food + Heat = Cooking, mixed quirky humor, pop culture references, geek stuff and 60 recipes. The follow up, I'm Just Here for More Food: Food x Mixing + Heat = Baking, appeared in 2004 and adhered to much the same formula.
Russ Parsons, a food writer for the Los Angeles Times, did his take on food science in How to Read a French Fry: And Other Stories of Intriguing Kitchen Science. It presents the typical array of nerdishness (why onions make us cry, etc.) and more than 100 recipes, including Goat Cheese Tart, Meyer Lemonade and more.
The New Kitchen Science: A Guide to Know the Hows and Whys for Fun and Success in the Kitchen, by prolific food writer Howard Hillman, is an updated and revised edition of a work that actually predated McGee's book. It first appeared in 1981 and received its first revision eight years later. In Q&A fashion, it tackles by now familiar topics such as how a microwave oven cooks food, why ice cream turns too icy and - you guessed it - why onions make us cry.
The Inquisitive Cook took its name from a syndicated newspaper column that originated in the Montreal Gazette. A relatively slim volume, as these things go, it debuted in 1998 into a marketplace that was still relatively uncluttered by such works. And yes, authors Anne Gardiner and Sue Wilson do answer the age-old question apparently beloved by food science writers everywhere - why onions make us cry.
The year before - 1997 - saw the release of Shirley Corriher's Cookwise: The Secrets of Cooking Revealed, one of the first works of note to follow McGee's books. A culinary troubleshooter of sorts and all around kitchen science gun for hire, Corriher penned a work that contains the now familiar formula of food science goodness and recipes - more than 200, in this case - spiced with anecdotes like the one about the time she blew up a duck. And no, firecrackers were not involved.
But perhaps the true pioneer in this field - at least in contemporary times - will probably remain enshrined forever, and most undeservedly, in the annals of obscurity. That would be Arthur E. Grosser, who set a precedent for so many of the food science works later written by chemistry professors.
In Grosser's Cook-Book Decoder or Culinary Alchemy Explained, the author leavens his text with more than a few pinches of wry humor, opening with a chapter devoted to the egg and going on to treat vegetables, "beast and bird," fish, fruits, desserts, baking, beverages and more. Also included are 120 recipes and 20 experiments, or as Grosser would have it - "autodemonstrations."