Brussels sprouts. To those who have viewed an animated cartoon or two too many, the thought of the pungent little dwarf cabbages as soccer balls in an all-hamster league comes to mind. Not even June Cleaver could make Wally and the Beav eat their Brussels sprouts. After all, in the laws of the black and white movie and 50's sitcom worlds, the scene-stealing child actor always feeds the Brussels sprout (under the table) to that even worse scene-stealer, the dog.

So why should we give these diminutive green orbs a place at the table? As the sitcom and real-life moms would say, they're good for you, a veritable "pocket Hercules" of vegetables. Of course, like everything else healthy, you just want to soak the little you-know-what. in rich creamery butter until the fat is literally oozing out of them. But seriously, the Brussels sprout is a fiber-rich nutritional powerhouse, practically throbbing with Vitamins C, A and folates.

Like it. cruciferous comrades, this most humble member of the mustard family is gaining a reputation as a cancer fighter. The health claims for these phytochemical-packed vegetables (which include broccoli, cauliflower, kale, kohlrabi and cabbage) have been formidable; reportedly, their enzymes detoxify cancer-causing agent., while natural antioxidant. hold renegade tumor-causing cells in check. The latest study, from the Harvard School of Public Health, credit. cruciferous vegetables with significantly reducing the risk of bladder cancer.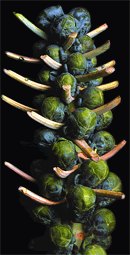 The USDA adds, "Brussels sprouts develop as enlarged buds on a tall stem, one sprout appearing where each main leaf is attached. The "sprouts" are cut off and, in most cases, are packed in small consumer containers, although some are packed loose, in bulk. Although they are often available about 10 months of the year, peak supplies appear from October through December. Look for: A fresh, bright-green color, tight fitting outer leaves, firm body, and freedom from blemishes."
These leafy green vegetables, first popular in that cheese and ale mecca known as Brussels, Belgium, grow axially along stalks. The sprouts are actually a cluster of buds. There are roughly 80-100 sprouts per stalk. Usually 2.5 cm (about 1 in) in diameter, Brussels sprouts can in some cases range quite a bit in size, even on the same plant, the largest attaining the size of a small cabbage.
From the Ed Hume Seed Catalog comes the following friendly advice on growing Brussels sprouts. "Brussels sprouts grow best in a sunny location with fairly rich well drained soil. Harvest sprouts from bottom of plant up as heads mature. Do not grow in same area of garden where members of cabbage family were grown the year before."
A charming village in New Brunswick, Rogersville, home to Trappist monks and Trappistine nuns, devotes an annual celebration to the Brussels sprout. The Festival des Choux de Bruxelles transpires in late July and early August, in a peaceful locale known for it. monasteries and retreat. Since the Trappist orders in Belgium are known for their outstanding cheeses and world-class beers, it's a solid bet that the food may be as memorable as the scenery and atmosphere.